Summer campus sees news while students holiday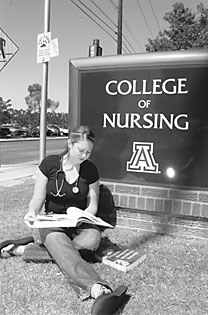 file photo/Arizona Daily Wildcat

UMC has suffered a shortage of nurses over past years. Arizona legislature has passed a bill that might help solve the problem.

Arizona Daily Wildcat
Monday August 26, 2002


Regents approve presidential pay raise

In June, the Arizona Board of Regents approved a $148,394 pay raise for President Peter Likins.

After the raise, Likins' total salary package jumped to $468,394 a year, or 46 percent more than he previously earned. His salary will increase by $25,750 alone, while his pension plan will nearly quadruple in size.

Likins said in March that he would not accept a raise because it would be embarrassing to do so in the middle of a UA budget crisis.

But Likins ended up accepting the raise and saying he would donate the increase in his salary and foundation gifts ÷ not including the increase in his pension ÷ to the university.

"(The raise) makes me uncomfortable," Likins said. "This is not a good time for this to happen."

Likins said he changed his mind about accepting the raise because he felt it would not be fair for ASU and UA to have presidents with a huge salary difference.

"If they had a $200,000 disparity, it would cause problems in a lot of ways," he said, noting that the financial situation at ASU is no better than that at UA.

Former UA surgeon appointed top U.S. doc

The Senate confirmed Dr. Richard Carmona, former UA clinical professor of surgery, as U.S. surgeon general in late July without debate.

Senators voted 98-0 to limit debate over Carmona's nomination. He was then confirmed by voice vote, clearing the way for him to take the post.

Carmona, a UA clinical professor in public health, surgery, and family and community medicine, is also medical director of the Arizona Department of Public Safety Air Rescue Unit and a SWAT training officer at the Pima County Sheriff's Department.

Carmona previously held the positions of director of Trauma Services at Tucson Medical Center and Medical Director of Kino Community Hospital.

Legislature ups demands on nursing college

The Arizona State Legislature passed a bill in late May to increase the number of nurses in hospitals throughout the state.

The legislation, which was in response to a national and state-wide lack of nurses, requires that the number of students graduation from nursing programs in Arizona double, increasing from the current rate of 1,000 graduates per year to 2,000 by the end of the 2006-2007 academic year.

For UA, this means increasing the number of students accepted each semester from 50 to 100, which may force students to cram tightly into available classrooms.