╬Blackzilla' Conquers Tucson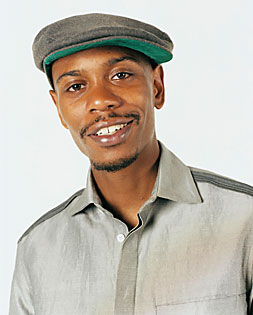 PHOTO COURTESY OF COMEDY CENTRAL

Comedian David Chappelle gets down and dirty at the Rialto Theatre, 318 E. Congress St., Saturday.

By Nate Buchik
Arizona Daily Wildcat
Thursday February 20, 2003


Rising star Dave Chappelle tackles social issues while pushing social boundaries in new sketch comedy show

With a long list of supporting movie roles and a stand-up act that never garnered as much attention as Chris Rock or Martin Lawrence, Dave Chappelle has always played second fiddle in show business.

That could all change with a new sketch comedy TV show and a hot stand-up tour that makes a stop in Tucson Saturday.

"Chappelle's Show" ¸ which blends parodies of pop culture, racism and history ¸ brings him a wider audience that could guarantee him a lifelong tenure in the comedy business, something he would welcome.

"The last job I had, I was a stock boy at a toy store. It wasn't a bad job, but the first $50 I made from stand-up, I quit that job. You just find something that you feel you're good at and that you enjoy," Chappelle said.

While stand-up is his first love, the Comedy Central show allows him to push more limits than in a sitcom while staying true to his material.
---
Where to go:
· ╬Blackzilla'
· All ages, Rialto
· 2/22 8p.m., $32
· ╬Chappelle's Show'
· Wednesday ¸Comedy Central
· 11:30 p.m.
---
"The TV show is different from any other gig I've had because it is so close to stand-up. Because I get to be so hands-on involved in the writing, it's probably as close to stand up as I'm gonna get in show business," he said.
Chappelle writes sketches and shares control with Neal Brennan, his writing partner from "Half Baked." But there is a lot of pressure on both of them to come up with fresh and funny skits every week.
"Just to do that half hour, that shit is like murder. It's a lot of work," he said.
Unlike "Half Baked" ¸ which deals entirely with pot ¸ "Chappelle's Show" thrives on smart, edgy sketches with many underlying racial themes that challenge viewers' ideas about today's world.
"Some sketches are making more of a statement but I don't want to be all preachy," he said.
These sketches include Chappelle playing a blind white supremacist leader who doesn't know he's black and a look at what America would be like if black people had received slavery reparations.
"Me and my partner Neil, who write the show, the way we talk, like just our conversations or whatever, are socially oriented. I think the commentary on the show is a reflection of that. Instead of like ╬I've got to teach these people,'" Chappelle said.
While Comedy Central plugs his show as "a new brand of sketch comedy," Chappelle, who had his first major break when he played an annoying comedian in "The Nutty Professor," only sees one major difference.
"I'm not trying to reinvent the wheel of variety shows," Chappelle said. "(But) there's no regular cast on the show. And we do that on purpose so we can find the people who are perfect for the part. We don't have to write for somebody. Like with a cast it's always like, ╬Frank does a good Denzel (Washington); write in a Denzel for Frank.'"
Chappelle won't be doing any Denzel impersonations when he brings the "Dave Chappelle is Blackzilla" tour to the Rialto, but expect more of a look into his personal life.
"The first half of my act that I've been doing has been very opinionated. A lot of stuff just popping off at the world. Then I talk a little bit about my life. I try not to be too narcissistic up there, if that's possible," he said.
Keeping his material fresh is a challenge for Chappelle, who has been doing stand-up since the age of 14.
"I just saw that Michael Jackson interview. Now I don't have no jokes about it yet, but jokes are to come. Watching it disturbed me on a lot of levels," he said.
After starting off in D.C. during his early teens, Chappelle moved to New York after high school to work the club scene while accepting that he would be the only person in his family not to go to college.
"When I started, (my mother) was supportive but scared to death," he said. "I think she was thinking, ╬For all the bad shit he could be doing, it's probably better that he spends his time this way.'"
Chappelle had success in New York and soon appeared on Def Comedy Jam and began a film career, making him a staple in the comedy world.
"I always think a lot of interesting voices emerged from (Def Comedy Jam). I mean, that was the week I met Bernie Mac the first time, that I met Chris Tucker the first time."
In his first movie ¸ "Robin Hood: Men in Tights" ¸ Chappelle worked with the famed Mel Brooks. During the next few years he did it all, appearing in "Blue Streak," "Con Air" and "Screwed" in between stand-up tours and television pilots that never materialized into series.
"The only thing I hadn't tried in television was something on cable ¸ which proves to be a lot better because they give me so much more freedom," he said.
Chappelle has matured into a comfortable role as a quasi-star, while starting a family with a wife and son. His show, successful thus far, will most likely be picked up for another season and his current tour has sold out at most spots.
However, he does have another dream he hopes becomes a reality ¸ a film about his late mentor, famous street performer Charles Barnett.
"He was a crack addict, he was dying of AIDS ÷ all these bad things were happening to him, but he was the funniest dude I've ever seen."
Chappelle met and followed him around for a summer, learning his craft. Chappelle said that if he could make people laugh on the street without a stage or screen to grab attention, he could make anyone laugh.
"It would have taken me 10 years of trial and error to learn what I learned that summer, just from hanging with him," he said. "If my career ever falls apart, God forbid, I could work on the street. And I'd still tell jokes."
Something to say? Discuss this on WildChat