Indian Art Fair visits Tucson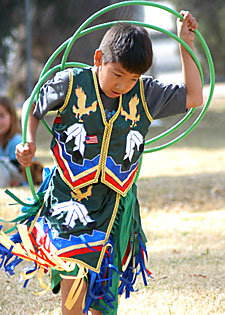 WILL SEBERGER/Arizona Daily Wildcat

Cree Larance, 9, dances a traditional native hoop-dance at the Indian Art Fair outside the Arizona State Museum yesterday. He is a world champion hoop-dancer.

By Cara O'Connor
Arizona Daily Wildcat
Monday February 24, 2003


Ninth annual Southwest Indian Art Fair brings Native American artists and performers to campus

More than 4,000 Tucsonans visited the ninth annual Southwest Indian Art Fair at the Arizona State Museum Saturday and Sunday.

Two hundred Native American artists and performers from at least 20 tribes in the Southwest came to Tucson to display and sell their work and to educate audiences about their cultures.

The fair brought together art forms of differing mediums including paint, sculpture, tapestry and basket weaving, jewelry, musical instruments, photography, woodcarving and beading, in varying contemporary and traditional styles.

The artists also came in all ages.

Eight-year-old Justin Naranjo from the Santa Clara reservation near Santa Fe, N.M., won two Youth Awards of Excellence for his drawings. He'll buy candy and clothes with the $100 prize, he said.

People work directly from their hearts and from their birthright
- Shonto Begay
Navajo painter and artist

"Drawing is fun to do," Naranjo said, adding that his favorite things to draw are sun gods and serpents. He is following in the footsteps of his father and his grandmother, Glenda, who are both artists.
It's common for the tradition of art to be passed down in families, said Navajo rug weaver Florence Scott-Manygoats.
"This is something that is just passed on. The colors I put together and the designs, it's just from experience," she said.
The Art Fair also marked the unveiling of three more of the "Ponies del Pueblo," sponsored by Tucson-Pima Arts Council. Forty life-sized ponies, decorated by regional artists, will be displayed around Tucson and eventually auctioned to benefit Tucson and Pima County non-profit organizations.
Native American artists decorated the three ponies that were presented at the Art Fair.
One of the ponies, entitled "Healer," and decorated by Glory Tacheenie-Campoy, was dedicated in memory of the three nurses killed in the October shootings at the College of Nursing.
"I liked that there was one that was dedicated to what happened at the school of nursing. It's nice to see something dedicated for healing," said Erin Guthrie, a research specialist at the UA Respiratory Center.
"It's good art," said Shonto Begay, Navajo painter and artist of the pony entitled "Riding Our Faith."
"People work directly from their hearts and from their birthright," he said. "Art should be the medium that connects us all."
Delphine Tsinajinnie, a linguistics graduate student and member of the Nihook‡‡' Dine'ˇ tribe, sang traditional Native American songs yesterday.
"I sing traditional songs and I've tweaked them a little bit," she said.
She performed traditional Native American corn grinding songs sung by the elder men, songs that her mother sang to her when she was young, and other original songs.
Tsinajinnie is a recording artist on the Canyon Records label, and has already released one album and is working on a second.
Fair-goers were also able to get a feel for many of the artistic areas represented at the event. Demonstration tents gave people an opportunity to learn how to spin wool, weave baskets and make Hopi pottery.
Attendees also enjoyed Native American food, such as Indian fry bread, tacos and roasted corn, while watching performances of Native American songs and dances.
"I think that there is a lot of fun and a lot of learning to be had here," said Sherri Raskin, Program Coordinator for the Arizona State Museum and Southwest Indian Art Fair Organizer.
Something to say? Discuss this on WildChat