Frye emerging as full-court presence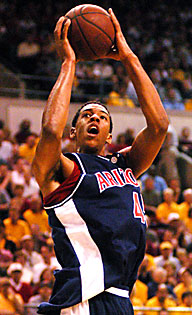 SAUL LOEB/Arizona Daily Wildcat

Sophomore Channing Frye is in control of his game, creating a mismatch for UA opponents.

By Brian Penso
Arizona Daily Wildcat
Wednesday February 26, 2002


Sophomore center Channing Frye was recruited out of high school based on the potential that UA head coach Lute Olson saw in the Phoenix native.

Olson projected that Frye would begin to shine during his junior season, but he was wrong.

Frye, the current Pacific 10 Conference Player of the Week, has emerged as a threat on the offensive and defensive ends in recent weeks.

Olson said he saw the improvement in practice and is not surprised by Frye's back-to-back games with at least 20 points and 10 rebounds.

"Like I have said many times, we see things in practice that you're going to see in a week or two in game situations," Olson said. "You could just see Channing's confidence building. His aggressiveness is something that has not been there before. Right now, everything that's up he thinks is his, and he'll knock our guys over to get the ball. He shouldn't care if he sends a couple of them flying. It's his job to go get it."

Frye said he is just trying to go out there and do whatever it takes to help the team win, but he said he goes out and is motivated by all of the people that have doubted him.

"I don't worry when people doubt me," Frye said. "I don't go out and try to score 20 points. I go out and try to be productive on both ends of the court. I am a team player."
---
Heading into their final road trip of the season, the Wildcats have the challenge of becoming the first team to defeat California on its home floor since UA won in Haas Pavilion last season.
The Golden Bears have won 17 consecutive home games, the the eighth longest active streak in Division I.
Haas is a tough place for visiting teams, as the student section is right on the floor, giving fans a chance to reach out and touch the players on the sidelines.
"The students are right on the sidelines and they can tough and grab you," senior point guard Jason Gardner said. "When we go out for warm-ups they are really loud, but this team doesn't get rattled."
Olson said his players strive in big games, and he feels that Cal's success at home is due to other teams becoming rattled in hostile environments.
"It's a big game," Olson said. " Our guys play better in tough places. If you look at the games this season with the big pregame hype, our guys play at their best when there is a lot of hype around the game. Our guys are used to being in that position. If you take a look at other top teams around the country with Duke or Kentucky, Connecticut, Kansas, generally they play well in big games because they are used to being in big games."
---
With two weeks left in the Pacific 10 Conference season, the top five teams in the conference ÷ Arizona, Cal, Stanford, Arizona State and Oregon ÷ all have a chance to improve their standings with upcoming head-to-head competition.
Arizona, Cal, Arizona State and Stanford all face off against one another, and Oregon finishes this season with ASU and UA.
"This is going to be exciting," Olson said. "The conference could not have written it up any better. There are no gimmie games for anyone."
The one team in the top five in the Pac-10 that is a bit of a surprise is Stanford, who was picked to finish seventh in a preseason media poll.
"The media picked Stanford to finish seventh in the conference," Olson said. "I told everyone that was a joke. They are well-coached, and I knew that they would finish in the top five."
Something to say? Discuss this on WildChat