Issue of the Week: An official critique of the new union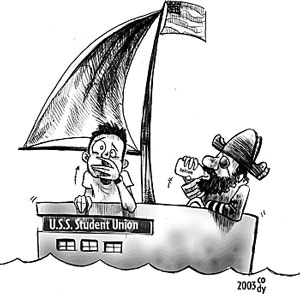 Illustration by Cody Angel

Arizona Daily Wildcat
Wednesday February 26, 2002


Last week, the new student union was "officially" opened with presentations, ribbon cutting and parties. To most students, it was an awkward shortcut to reroute walks in between classes through the "canyon." Seniors have endured union construction for three years and the opening has come just in time for graduation. Dan Adams, director of UA Student Unions, commented last Monday: "It's not just a union, it's a small city." After more than $60 million, 12 million pounds of steel, students now incorporate the 9.3 acre building into their regular lives. So, what do you think of it?

Any-student-union, USA lacks local flavor

The new student union is a nice new building (not that we have a shortage of those on campus) with much to offer ÷ except locally owned businesses. Granted, locally owned businesses may not have been able to put up the money for opening a new location as easily as McDonald's or Domino's, but they could offer not only better food, but a cultural sense of place that is so blatantly missing from our student union.

There is no reason why Baggin's should not be the sandwich place, Beyond Bread the bakery, Magpie's the pizza place and Eegee's the fast food counter. In fact, the food court at the Tucson Mall ÷ no stronghold of locally owned businesses ÷ has far more to offer that is locally owned than our new student union. Aside from what the university itself owns, the only businesses and restaurants in the union are chains, whose profits quickly leave our campus and our city.

Leaving locally owned businesses out of the mix is a mistake that our community and local economy will pay for in years to come.

Kendrick Wilson is a political science sophomore. He can be reached at letters@wildcat.arizona.edu.
---
Compromises aside, turreted modern monolith stands for freedom
For students like me who picked UA to escape the phony Greek facades of universities that value classicism and tradition over reason and progress, the cool steel, concrete, brick and glass beauty that is the new union is warmly received.
One of its essential features is Canyon Wall, which stretches along a ravine through the union and becomes the tower housing the bell of the sunken U.S.S. Arizona. Provost George Davis, a celebrated structural geologist, envisioned a masonry technique appropriate for Tucson's basin and range geologic landscape, characterized by inclined, domino-like fault patterns caused by tremendous regional stretching forces. Davis likened the stretching to UA's effect on students' minds: "Students come into (UA) and are stretched, yet supported ÷ stretched in ways that expand their horizon and create an understanding of the possibilities that exist here."
But compromises were made: Fake rock was selected over Arizona stone, plastic was rolled over the concrete floors, silver paint slapped over the red patina of the steel sail. A Soviet-style relief on the south wall and primitive heaps of junk to its north were commissioned as its "art."
While these concessions diminish the union's luster, it remains a monument in defense of the American principles that UA culture reflects: freedom of choice and a capitalistic commitment to technology inspired by nature for man's benefit.
Erik Flesch is a geosciences junior. He can be reached at letters@wildcat.arizona.edu.
---
It's what all the students were waiting for
Three years in the making and last week, the much-anticipated moment was upon us. The new Student Union Memorial Center, along with all of its specialty stores, computer labs and conference rooms, would finally be opened for all to use.
Oh sure, the post office would be convenient, and who knows, I might even stop in and get my hair cut once in a while. But for me, the Student Union was all about one single attraction.
For the few weeks leading up to the grand opening, I was restless with anticipation. I called family from all over the U.S. and bragged to them how UA was ahead of its time, providing its students with the latest in education resources, and I was going to be there to take it all in.
So there I was, last week, watching the ribbon get cut. I quickly made my way through all of the special attractions and free giveaways. I was not going to be distracted. I was there for one reason and one reason only.
But after about 30 minutes of searching, I stopped in amazement. Could this really be true? 405,000 square feet and no Hooters. What's this university coming to?
Steve Campbell is a senior majoring in Spanish. He can be reached at letters@wildcat.arizona.edu.
---
Fasten your seatbelts, we're ready for takeoff
Last time I checked this was a learning institution, not an airport. Next thing we know, airplanes will be touching down on the UA mall while the powers that be install a duty-free shop right next door to the post office. All that's needed are some slot machines and we're ready for takeoff (I think I've spent one too many layovers in Las Vegas).
I can't tell you enough how much I love the new shopping mall that was built. What's that you say? It's a bookstore?
I find it riveting that the actual books seem to be the hardest things to find in the entire establishment. (I take this time to mention that the Clinique counter sells the most pleasant shaving cream money can buy.) Go figure.
But that's OK, I'll give the brand new SUMC ÷ what's with that name anyway? ÷ and its creators their due respect. The four-level monstrosity at the heart of the UA campus will be nothing but a positive distraction from many of the problems that haunt this redbrick-laden wonderland.
Speaking of bricks, I'm waiting for union executives to commission a contest to see who can build the most accurate representation of the union out of LEGOs. First prize: No tuition increase.
Brett Fera is a marketing and communication junior and is the assistant sports editor. He can be reached at letters@wildcat.arizona.edu.
---
Makeup and literature in one place: It just doesn't get any better than this
Being a Montana hick from a town with a penguin statue erected on the outskirts of city limits, my perception of extravagant architecture is a little less refined than the average UA student.
My idea of creature comforts are running water, electricity and flushing toilets.
Impressing me is not a difficult goal to achieve.
In strolling around here and there, I have yet to make it through the whole building and damn lucky I haven't been lost, given my lack of directional skill. I swear this building has more people in it at any given time than my hometown ever has.
The new union is filled with many interesting and accommodating amenities, with more to come as evidenced by empty retail spaces and closed meeting rooms around the premises. I am particularly psyched about the Clinique makeup counter the UofA BookStore has to offer. All my life, I have waited to have the chance to buy makeup and great literature all in one place. Hemingway and lipstick. Momaday and mascara. Shakespeare and eye shadow!
And to think: Some people don't believe heaven exists.
All jokes aside, the union is a spectacular building and students should take advantage of all that it has to offer.
Bill Wetzel is a creative writing and political science junior. He can be reached at letters@wildcat.arizona.edu.
---
Refinements relieve union's bunker feel a little, but we could use some natural light
Remember the opening sequence in "The Empire Strikes Back"? The Rebel bunker on the ice planet Hoth is under attack, and agitated Rebel soldiers hurry in huddled mobs through the dark, claustrophobic tunnels of their icy stronghold, bracing themselves for Darth Vader's assault.
I can empathize with Luke Skywalker and his friends ÷ I experience a similar tension every time I visit the new Student Union Memorial Center. Maybe it's the crowds ÷ despite its size, the new union still feels packed all day, every day. On the other hand, maybe it's the way the union's dimly lit hallways almost perfectly recreate that oppressive bunker atmosphere. All they're missing is a Wookie.
The union architects do score some points, though: the open-air "canyon" running through the union's heart is a cool and pleasant mix of sun and shade. The gentle trickle of the anchor fountain is likewise a welcome addition, invoking a cool desert brook and serving as a fitting tribute to the theme of the old union.
But it still doesn't make up for those hallways! Underground tunnels may be fine for icy Hoth, but they seem bizarrely out of place in one of America's sunniest cities. This is Tucson ÷ is it really too much to ask for a little natural light?
Phil Leckman is an anthropology graduate student. He can be reached at letters@wildcat.arizona.edu.
Something to say? Discuss this on WildChat