Wildcats battle injuries, expectations to start year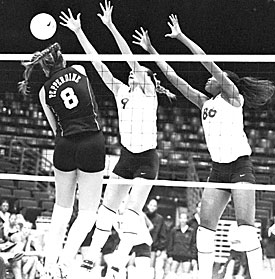 KEVIN KLAUS/Arizona Daily Wildcat

Freshmen Bree Ladd (left) and Kim Glass (right) try to block a Pepperdine hitter's kill during Saturday night's loss at McKale Center. The two freshmen are a part of the nation's No. 1 recruiting class.

By Brian Penso
Arizona Daily Wildcat
Tuesday September 10, 2002


Ever since its preseason ranking of No. 6, the UA women's volleyball team has been going downhill.

UA (3-3) was upset two weeks ago against Louisville and was defeated in convincing fashion over the weekend by both No. 4 Nebraska and No. 10 Pepperdine.

Now the Wildcats find themselves ranked 15th in the nation and questioning what has gone wrong.

UA is coming off its first NCAA Final Four appearance in 2001, which has put a bull's eye on the team's back every time they step on the floor.

"Beating Arizona is a big deal," UA head coach David Rubio said. "We are going to get every team's best match every night. But the bottom line is that teams are playing better then we are right now and they have deserved to win."

Besides beginning the season with three Top 20 teams, UA has had to overcome certain, unexpected obstacles early in the season.

With four true freshmen, 10 total underclassmen and a new setter on the Wildcat roster, Rubio knew he could ill afford to lack production out of his four returning seniors from last year.

However, that has not been the case.

Senior middle blocker Stefani Saragosa has been battling a pectoral muscle strain, and her court time has been limited this season.

To make matters worse, senior outside hitter Shannon Torregrosa has been inconsistent during the first two weeks of the season, which has put pressure on Arizona's three blue chip freshmen.

"Stefani is unable to be a major factor," Rubio said. "(Seniors) Lisa (Rutledge) and Rachel Williams have played great. Lisa is doing a great job and we can't ask much more than what she is providing for us. Shannon is a big stick for us and we need her to play better."

These factors have made it difficult for Rubio to set a consistent rotation that will allow his team to gain chemistry with one another on the floor.

Without a set rotation, Rubio said the Wildcats will continue to struggle all season.

Torregrosa's inconsistencies caused Rubio to play his young freshmen at positions they have not been trained in over the weekend, which has made setting a rotation more difficult.

"When Jennifer (Abernathy) goes in for Shannon she is playing in at right back," Rubio said. "That is somewhere where she has never played. She is not comfortable at right back because she has never trained there. The nice thing about Jennifer is that she just wants to play."

Once Rubio works outs out all of the early season glitches, the road back to the top won't be easy.

The Wildcats finish the preseason schedule this weekend against No. 21 Pacific, St. Mary's and an exhibition game against British Columbia.

Then the real challenge begins.

Arizona opens up Pacific 10 Conference play next weekend against No. 2 Southern California and the 14th ranked UCLA.