Going Goebel: UA alumnus plays gameshow geek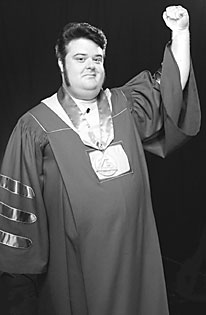 Photo courtesy of Comedy Central

Go Geek: UA alumnus and proud TV geek Paul Goebel can be seen showing off his television trivia skills on Comedy Central's quiz show "Beat the Geeks," every weeknight at 5.

By Jessica Suarez
Arizona Daily Wildcat
Tuesday September 10, 2002


How much do you know about TV? Maybe a couple hours of Nick at Night and "The Sopranos" every week makes you think you're an expert. But you're no Paul Goebel.

Goebel, who graduated from UA and now plays the TV geek on Comedy Central's gameshow "Beat the Geek," knows his TV. After all, can you name the three spinoffs from Golden Girls (and what episodes introduced each), the original name and star of "Saved by the Bell" and who was originally cast as the father on "The Brady Bunch?"

OK, don't worry about that last one; Goebel didn't know it either.

"You can tell everyone that I didn't know the answer to the last question," he said, after being quizzed (though he doubted the accuracy of the answer).

But his bank of knowledge is still pretty formidable. He's used it to win $40,000 on the quiz show "Greed," and now it's landed him a spot on "Beat the Geeks," a quiz show that pits contestants against three "geeks," who have been obsessed with movies, music or television their entire lives. Contestants are given easier questions, and the geeks are given more geek-worthy ones. Contestants are also given the chance to challenge guest geeks, who have specialized knowledge in everything from "Friends" to Playboy Magazine. Goebel says the show works because it lets people know that it's OK to be a geek.

"Everybody who watched the show says they should be this or that geek. The great thing is, it's causing people to embrace their geekiness," he said. "People learn you can be really into something and not have it be an obsession. It's telling people it's OK to own that, it's OK to say ÎI really dig this particular thing.'"

The show, which lets contestants and geeks trade insults between questions, seems custom-made for Goebel, who was involved in Comedy Corner for four years while attending UA.

"If you have a TV and you don't watch it, you're an idiot."
- Paul Goebel
UA Alumnus
"Beat the Geeks" Star

"We were always putting on good shows, doing running characters, doing things that were really popular with the students," he said. "We had a nice big cast, very popular people. The last year, I was the director and producer, (and) eventually turned it over when I graduated. Ever since then people have kind of followed that lead."
Goebel, who is also a stand-up comedian and an actor (most recently appearing on an episode of HBO's "Curb Your Enthusiasm"), said Comedy Corner prepared him for his career.
"To make it in show business, it takes a lot more than talent. You've got to be aggressive and kind of know the business," he said. "The great thing about Comedy Corner was, I knew lots of (non-theater majors) who were hilarious. It was a place to be free and creative, it was really low pressure.
We just wanted to be funny, and put on a good show with no pressure."
With experience as a game show contestant and the person standing between the contestant and their prize money, Goebel thinks the geeks have the easier job.
"We get paid whether we perform or not. The pressure is low, no matter how many questions we miss," he said. "Being on a game show, though, people don't do their best because they don't have experience in front of the camera."
Goebel is the second-most challenged geek on the show. The movie geek gets the most challenges, while the music geek of "Beat the Geek", the most sarcastic and, arguably, most difficult to beat, receives the least. Goebel says he and the other geeks have a theory as to how contestants think.
"We figure, you think about all the movies and all the shows that come out. Every year less than 20 movies, big movies, come out. But here are a lot of new TV shows every year, that's not even counting cable," Goebel said. "People figure, ÎI see a lot of movies a year, so I'll challenge that guy.' Music is a huge pool of questions. It's been around since the cave man."
Goebel also believes TV-watchers are looked down upon, unlike movie or music fans.
"TV gets a bad rap. If you have a TV, you watch TV. The only people telling the truth about not watching TV are the people who don't own one," he said. "If you have a TV and you don't watch it, you're an idiot."