Oregon State comes to McKale for season's final home series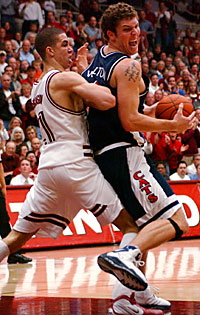 CHRIS CODUTO/Arizona Daily Wildcat

The Wildcats, led by Luke Walton, will try and make OSU coach Jay John's return to Tucson bittersweet this evening at McKale.

By Maxx Wolfson
Arizona Daily Wildcat
Thursday March 6, 2003


Ex-UA assistant Jay John returns to hometown for first time as head coach

When Jay John enters McKale Center tonight, he is unsure how the Wildcat fans will receive him.

On one hand, John was born in Tucson, went to Salpointe Catholic High School, graduated from UA and spent four seasons as an assistant coach for Arizona.

On the other hand, John is now the first-year head coach of Oregon State, UA's opponent tonight.

"It's a unique situation for friends and family," John said. "They want me to be successful at OSU but then they want the 'Cats to win."

Even though John has left the Old Pueblo, his ties at Arizona remain strong.
---
Game Info:
Who: OSU at UA
When: 6:30 p.m.
Where: Olson Court at Mckale Center
TV: Fox Sports Net
Who to Watch:
OSU - Brian Ricci,
UA - Salim Stoudamire
---
John said he still stays in touch with some of the Wildcat players, many of whom he has known since they were in high school or before.
"I have actually known Jason Gardner since he was an eighth grader in Indianapolis," said John about the player he picked Tuesday to win the Pac-10 Player of the Year award.
John also made sure to make a phone call to a member of the UA coaching staff Ryan Hansen, the director of basketball operations.
"I told him to make sure the heat is down in the visiting locker room because it gets too hot in there," said John, who has been to McKale Center twice as an opposing coach when he was an assistant with Oregon six years ago.
But tonight's game in McKale ¸ a place where No. 1 Arizona (23-2, 15-1) have won 19 straight against Oregon State ¸ will be his first as a visiting head coach.
Since being hired on April 9, the 44-year-old has already started to make a difference for the once-formidable Beaver program. After being picked ninth in the preseason Pac-10 polls, the Beavers have clinched the sixth seed with a 13-12 overall record and a 6-10 conference mark.
"He has done a great job, and the thing that he is really focused on is trying to bring back the tradition of Oregon State basketball," said UA head coach Lute Olson, who holds a 5-1 career mark against his former assistants. "Their program has been one of the very elite programs in the country through the years, and that's what he has been trying to focus on."
"It's fortunate that he came in with a senior-dominated team, with (Philip) Ricci, Brian Jackson and Jimmie Haywood, which then allowed him to get this year started on a very positive note," Olson continued.
Ricci, who John compared to former Wildcat forward Michael Wright, has been a good low post player for the Beavers. Ricci is fifth in the conference for scoring (17.0), first for rebounding (8.5), ninth for field goal percentage (.515), and fifth for blocked shots (1.3).
"He has a unique knack of knowing how to score," John said.
But John's influence has come in a different area ¸ rebounding.
When John was with the Wildcats, his role as an assistant was to coach the UA big men and in just one season with Arizona he led them to a No. 1 ranking in rebounding. The same techniques he used with the Wildcats are working for the Beavers, as they are on pace to be the best rebounding OSU team since the 1973-74 season, averaging 36.9 per game.
OSU's postseason hopes could come down to this weekend in the desert. Wanting to make a bid for the NIT, a win over Arizona or Arizona State on Saturday could certainly help their cause.
"(OSU) fans haven't had that kind of ╬hope' for a long time and they are really enjoying it," John said.
But John did say some of the Beaver players might have started celebrating their success a little too early in the season. After a four-game winning streak in the beginning of conference play, the Beavers went on to lose five of their next six games until they beat Southern California last Saturday.
"This past week we have gotten back to the task at hand," John said.
Something to say? Discuss this on WildChat