Get ╬Dirty' with the Arizona Theatre Company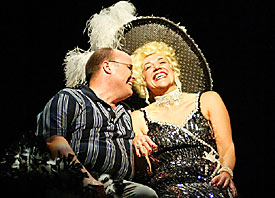 PHOTO COURTESY OF ARIZONA THEATRE COMPANY

Arizona Theatre Company's "Dirty Blonde," explores Mae West's life. Performances are at the Temple of Music and Art through March 22.

By Biz Bledsoe
Arizona Daily Wildcat
Thursday March 6, 2003


Sexy, sassy and sweet: These words describe both the late Hollywood siren Mae West and the Arizona Theatre Company's new play, crosscut with moments from her life and illustrious career.

"Dirty Blonde" is the show's title, and, like the play, it's full of innuendo. Written by Claudia Shear, "Dirty Blonde" is about Mae West and two young obsessed fans who find love through their mutual admiration of the legendary screen goddess. Charlie, played by Peter Brown, is a film librarian who met West in his teens and was given one of her beautiful gowns. Jo is a struggling actress who meets Charlie at West's gravesite. What follows for the two New Yorkers is a twisted, sexy take on a sweet love story that's full of Mae West songs and scenes from her life.

"The play tells about West becoming the persona that she was, while the other story line involves two New Yorkers who are obsessed with Mae West, and a little bit of a romance develops," Brown said.

"It's very funny, very witty, with this modern day love story going on alongside episodes of Mae West," said Heather Scriven, communications director for the Arizona Theatre Company. "You get to know a little bit about Mae West, but it's not a biography. Also, the costumes and the set are just beautiful, they're very elaborate and very cool."
---
Catch This...
· "Dirty Blonde" will run from March 7 ¸ 22 at the Alice Holsclaw Theatre at the Temple of Music and Art, 330 S. Scott Ave.
· Show times vary
---
For those that may think "Dirty Blonde" is just a boring play about a dead actress from too long ago to care, consider that the show contains nudity and adult language, living up to its name and making it perfect for a college audience.
"There is a boob that's flashed, and there's language, and it's sexually suggestive," Scriven said.
"It has a fair amount of raunch to it," Brown said. "But it's a very sweet play. It's very funny and it's got this beautiful little love story."
"Dirty Blonde" earned five Tony nominations for its successful Broadway run in the1999-2000 season. The three-person cast includes, besides Brown, Lisa Koch as both Jo and West, and Dan Hiatt as several characters
In addition to being a contemporary love story, "Dirty Blonde" deals in both the truth and lore of West's life. Brown plays nine characters in "Dirty Blonde," and at one point has the opportunity to play a version of West. To get ready for the role, he did research about West's highly successful and sexy life.
"Mae West was a vaudeville performer at first, and she was pretty raunchy. One of her early plays was called "Sex," and in the ╬20s, a play called "Sex" isn't going to go over well," Brown said. "She was actually arrested."
The notion that such raw sexuality was hardly acceptable at the time leads one to wonder how West managed to become so successful.
"Instead of hiding the fact that she was all about sex, she learned to play it up. She became this sexy creature who would always be in control of the men around her, and she became a sensation after that," Brown said. "If you watch her films, they're all about her being this irresistible siren. She uses her sexuality to maintain control."
West's career throughout the '20s, '30s and '40s was fodder for plenty of Hollywood gossip. Speculation flew about whether West's personal life was as sexy as her roles. Eventually, the actress turned from a temptress in her prime to a lampoon of herself in her old age.
"'Dirty Blonde' shows her decline as well, where she becomes a joke of herself," Brown said, citing one of West's last films as an example. "She makes a film in the late '70s called ╬Sextette' where she's 85 years old. Her first entrance is in a wedding gown marrying a 22-year-old Timothy Dalton."
Despite West's rather unglamorous late career, her personality both on and off the stage proved to be a fascinating mixture of sex, power and feminine wiles.
"Just as a feminist character, West is really interesting to watch," Brown said. "Feminism makes a big deal about women being used as sex objects. Well, here's a woman who uses sex to get what she wants and she's obviously a woman of power. I think she's a real feminist pioneer in many ways."
Something to say? Discuss this on WildChat