Calendar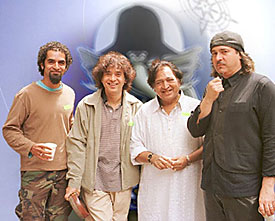 PHOTO COURTESY OF UApresents

"Tabla Beat Science" performs at Centennial Hall on Friday and features classically-trained tabla drummers, sarangi players, percussionists and DJs.

By Adam Pugh
Arizona Daily Wildcat
Thursday March 6, 2003


Music
---

· Accelera Deck Twilight (Scarcelight)
· AsperaTBA (Jagjaguwar)
· Atari Star Dispelling the Myth · (Johann's · )
· Ataris So Long, Astoria (Columbia)
· Black Box RecorderPassionoia (One Little Indian)
· Black Twig Pickers Soon One Morning (VHF)
· Bottom of the Hudson The Omaha Records (Kosher)
· Bug Vs. Rootsman / DJ Rupture Split EP (Tigerbeat6)
· California Oranges Oranges & Pineapples (Darla)
· Sylvain Chauveau Un Autre Decembre (Fat Cat)
· Clone Defects Shapes of Venus (In the Red)
· Clue to Kalo Come Here When You Sleepwalk (Leaf)
· Tony Conrad Fantastic Glissando (Elements)
· Coral The Coral (Columbia)
· Cursive The Ugly Organ (Saddle Creek)
· Datsuns Datsuns (V2)
· Durutti Column Someone Else's Party (Fulfill)
· Jay Farrar The Slaughter Rule (Bloodshot)
· Beth Gibbons & Rustin' Man Tom The Model EP (Go Beat)
· Gigolo Aunts Pacific Ocean Blues (Parasol)
· Har Mar Superstar Power Lunch EP (B-Unique)
· Kristin Hersh The Grotto (4AD)
· King CrimsonThe Power to Believe (Sanctuary)
· Lali Puna Left Hand EP (Morr Music)
· MahoganyConnectivity (Darla)
· Daniel Menche Beautiful Blood (Alien8)
· Pilot to Gunner Games at High Speeds (Arena Rock)

Movies
---
Theatres
· "Tears of the Sun" (Columbia)
· "Bringing Down the House" (Buena)
Rentals
· "Swimfan" (20th Century Fox)
· "I-Spy" (Columbia)
· "Moonlight Mile" (Touchstone)
· "White Oleander" (Warner)
Events
---
"Rock For Rialto" benefit concert and live recording happens Friday at 9 p.m. This is the final concert in a series of three shows for Rock for Rialto. Friday's show features: Sunday Afternoon, Truck, The Solace Brothers, Manifold and Gorilla Behind Bars. Tickets are $5 in advance and available at the Rialto Box Office, 311 E. Congress St.
Classically trained tabla drummer Talvin Singh teams up with famed tabla master Zakir Hussain, vocalist and sarangi player Ustad Sultan Khan, percussionist Trilok Gurtu and drummer Karsh Kale. The group will lead a lyrical, futuristic journey into the nuances of the Indian tabla, which is so often lost behind other instruments. The group Tabla Beat Science will perform Friday at 8 p.m. Tickets range in price from $16 to $38 and can be purchased at the Centennial Hall box office or online at www.uapresents.arizona.edu.
On Sunday, Concrete Blonde will play at City Limits. Tickets are $19 in advance at all Zia Record Exchange locations. For more information call 327-3340.
The pop-sensible group Pinback is coming to Tucson next Wednesday. The show is at Club Congress, 308 E. Congress St. For more information call 622-8848.
Something to say? Discuss this on WildChat