Ask Anything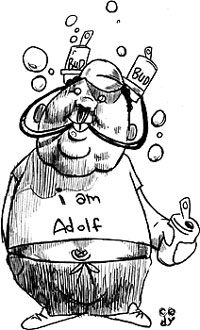 Illustration by Cody Angell

Arizona Daily Wildcat
Tuesday March 11, 2003


The following are answers to reader-submitted questions. Need advice? E-mail Ask Anything at gowild@wildcat.arizona.edu.

Dear Ask Anything,

Here's a question I hope you can give an answer to. If I own an island and there is an active volcano on it and it erupts and ruins a nearby town, do I have to pay for property damage? It's an odd question but it needs an answer just the same. State Farm is still trying to process my claim. Well, thanks for the help and I hope to get an answer soon!

Evil Ravaging Unit Pummeled Town

Dear ERUPT,

Haha. We're not going to interpret your question literally because it's pretty obvious what we've got here: a sexual metaphor.

If a volcano "erupts" and ruins a "nearby town"? Very funny and clever. You're really dealing with an unwanted pregnancy, aren't you?

So you've recently become pregnant and the guy doesn't want to take responsibility. That's a real shame. Another dead-beat dad in the world. Unfortunately, you can't force him to help you out, and if he doesn't want to, you might not even want that kind of person in your life. But a pregnancy should be looked at as a gift, so don't say it's ruining your "town." (We're not sure if "town" refers to your social life or your uterus.)

If the father really won't come around and help with child support and other expenses, you've got to decide if you're ready for a child. Going to UA while taking care of a child might be a daunting task, especially for people so afraid to share their true feelings without using figurative language to disguise them. Also, babies don't like metaphors, because they are stupid. So watch out for that.

But seriously, abortion has to be looked at if you don't have any moral qualms with it. Another option is adoption. And if you have a supportive family, you might not have to worry about it at all. Children are blessings, but don't be ashamed if it's not the right time in your life for a child.

And if this wasn't a metaphor and you were serious about the volcano thing, you wouldn't have to pay for any damage. You have no way of controlling a volcano! They are uncontrollable beasts with the tenacity and ferocity of a thousand lions.

Thanks for the question.
---
Dear Ask Anything,
I got drunk at a party and forgot my name. Do you know what my name is?
Don't · Remember · Umm · Name · Know?
Dear DRUNK,
We don't remember your name either. This, however, presents the perfect opportunity for you to assume a whole new name. May we suggest "Adolph"?
This name has gotten a bad rap ever since that whole World War II thing. But don't let that stop you from taking this sassy and fun name that says: "I'm young, I'm German and I'm ready to take over the world." The child molester mustache and singular testicle are, of course, optional (but preferred).
Thanks for the question.
Disclaimer: Ask Anything prints answers to reader-submitted questions. Advice is for entertainment purposes only; follow at your own risk.
Something to say? Discuss this on WildChat