Barrage - A flair for fiddling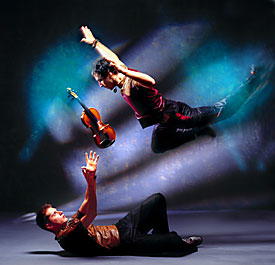 PHOTO COURTESY OF UA PRESENTS

"Barrage" combines folk, disco, swing, country, jazz, classical and pop music with energetic dance to create something halfway between "Stomp" and "Riverdance."

By Orli Ben-Dor
Arizona Daily Wildcat
Thursday March 13, 2003


A show for the eyes and ears where just about anything musical goes

Keep the tuxedo in the closet for this weekend's violin performance extravaganza, "Barrage," at Centennial Hall. The production shows off technical talent arguably as advanced as something one might hear and see at an Itzhak Perlman recital, but its music-making is of a different symphonic order: fiddling.

Like the tuxedo associated with stuffy symphonies, the cowboy boots associated with a hoe-down fiddling festival can also be left in the dust. Instead of orderly orchestras or cowboy country, "Barrage" meets in the middle, where classical technique fuses with cross-cultural musical traditions in its own unique barrage of melody, percussion, theater and choreography sure to engage any audience member's eyes and ears.

The troupe consists of nine fiddlers, a bassist, guitarist, drummer and percussionist. Together they join in a choreographed 90-minute show, complete with colorful lighting and an educational ÷¸ yet still entertaining ¸ storyline.
---
Check it out
· Barrage will be on Friday through Sunday, with student prices available for the Friday evening performance and Saturday matinee. Call the Centennial Hall box office at 621-3341 for more detailed ticket information.
---
This time around, the Canadian-based traveling troupe tours its newest installment of the production "Vagabond Tales." The performance follows the life of a drifter who embarks, with the help of his magical trunk, on a journey through time and cultures discovering each era and region's music with every step. According to executive producer and co-founder Anthony Moore, this vagabond sure gets around.
"A cool sound pallet comes out of the show. You'll hear anything from Bulgarian folk music to disco," Moore said.
Dean Marshall, who composed the original score, incorporated, besides the folk and disco Moore mentions, calypso, swing, country, jazz, klezmer, classical and pop grooves. Moore emphasizes that "Barrage" does not limit the cross-cultural music to rigid, traditional exemplification of particular genres. For instance, just because the vagabond pulls an Irish flute out of his magic chest, the audience will not necessarily hear and see a traditional Irish jig.
"We're not purists. We look at different kinds of music we like and filter that and come up with an interpretation," Moore said.
Still, the musicians depict motives and themes specific to the rhythms and roots of that particular stop, though in a less-traditional, and thus less-predictable, manner.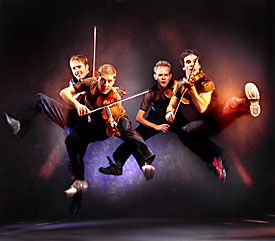 PHOTO COURTESY OF UA PRESENTS
"The idea with ╬Barrage' is to make a young show that is fun to watch and to hear," Moore added.
If doing back flips across the stage counts as fun to watch, and energetic grooves pumping through to the audience count as fun to hear, then "Barrage" has successfully realized Moore's idea. The history behind the "Barrage" success story is worth noting.
Back in Calgary, Alberta, Canada in the early ╬90s, Moore and four others began to explore group-fiddling lessons. According to Moore ¸ and as a classical violinist he knows firsthand ¸ the groups' playing motivated violin players, particularly those looking for a change from the classical music scene. Soon, the idea of group fiddling caught on not as merely an outlet providing a change of pace for violinists, but as an audio and visual treat for non-musicians. The originators, self-dubbed 5-to-1 Entertainments, noticed the demand. Having business backgrounds accompanying their musical ones, they decided to supply this new professional and popular demand.
The five knew from the beginning that their violin/fiddle project would have to prove itself in a tough marketplace, considering competition like "Stomp," which garnered rave reviews internationally, and "Riverdance," which tapped its way to superstardom. To make the show stand out, they decided "Barrage" would focus on innovative and technically developed musicianship as well as athleticism, energy, theater and ethnicity.
Without holding auditions, the five sought to create the troupe by word of mouth. They also utilized their own business and musical backgrounds to finally propel this artistic and entrepreneurial endeavor to success.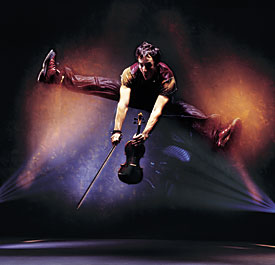 PHOTO COURTESY OF UA PRESENTS
As a result, "Barrage" has toured through North America and Europe and boasts an international cast, hailing from seven countries. Moore likens the musical vagabond from the new show to the cast, as the cross-cultural sounds on stage can be witnessed in unscripted offstage interactions.
As the "Barrage" team navigates down the entertainment business's windy and bumpy road, it remains fresh with new shows and committed to non-industry goals, such as education. Moore explains that when the troupe has a day or two off, it makes appearances in middle and high schools to give demonstrations and let students ask questions.
"It's important to realize that there are lots of things to do in a musical career. Lots of students have classical music backgrounds and are looking for fun ways to explore other musical options," Moore said.
This pursuit of musical diversification is not limited to the age group to which the "Barrage" summer workshop caters, either. Lindsay Bohl, viola performance and music education senior at the UA, craves different musical outlets like "Barrage," too.
"It's a mix of ╬Stomp' and ╬Riverdance'. I'm very excited about this. I always want to do something different besides classical music. I love fiddling and jazz," she said.
Dancing violinists telling a story seems light years away from a Mahler symphony or a Tchaikovsky ballet. With its diverse sounds, a person of any age or musical taste can find "Barrage" entertaining. So bust out the tux and pair it with the cowboy boots, because with "Barrage," anything goes.
Something to say? Discuss this on WildChat