Calendar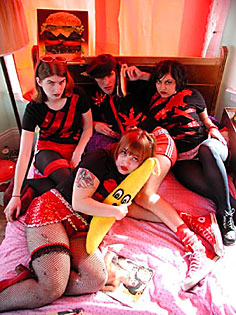 PHOTO COURTESY OF RAPBITCHES.COM

The "hot ass hoez" of rap group Gravy Train release their debut CD, "Hello Doctor," this Tuesday on Kill Rock Stars.

By Jessica Suarez
Arizona Daily Wildcat
Thursday March 13, 2003


Music
---

· Biohazard Kill or Be Killed (Sanctuary)
· Karl Beau (of Microphones)
· Clothes Your It's (K)
· Blood Brothers Burn, Piano Island, Burn (Artist Direct)
· Buzz cocks Buzz cocks (Merge)
· Califon Quicksand/Cradle snakes (Thrill Jockey)
· Decembrists Castaways and Cutouts (Kill Rock Stars)
· Deer hoof Apple O (5RC/Kill Rock Stars)
· Gravy Train Hello Doctor (Kill Rock Stars)
· Impossible Shapes Bless the Headless (Record head)
· Kills Two Dollar Luck (Rough Trade)
· King Britt Adventures in Lo-If (Rapster/! K7)
· Long wave The Strangest Things (RCA)
· Stephen Markus & the Jacks Pig Lib(Matador)
· Midnight Evils Straight Till Morning (Estrus)
· Music Lovers The Words We Say · (Marriage)
· Oneida The Wedding (Jagjaguwar)
· Saturday Looks Good to Me All Our Summer Songs (Polyvinyl)
· (Smog) Dinner (Drag City)
· Sorry about Dresden Let It Rest (Saddle Creek)
· Sorts Six Plus (Luckyhorse Industries)
· Spiritualized Complete Works, Vol. 1 (Spaceman/Arista)
March 25
· Ryan Adams Love Is Hell (Lost Highway)
· Aphex Twin 26 Mixes for Cash (Warp)
· ApplianceAre You Earthed? (Mute)
· Cardigans Long Gone Before Daylight (Universal)
· Vic Chesnutt Silver Lake (New West)
· Noam Chomsky Distorted Morality DVD (Epitaph)
· Chromatics Chrome Rats vs Basement Ruts (GSL)
· Copeland Behind Medicine Tree (Militia Group)
· Howe Gelb (Giant Sand) The Listener (Thrill Jockey)
· Idlewild The Remote Part (Capitol)
· Joy Electric The Tick Tock Treasury (Tooth & Nail)
· Juliana Theory Live 10.13.2001 (Tooth & Nail)
· KRS-One Kris Styles (Front Page·)
· Method Man Tical 0: The Prequel (Def Jam)
· Mull Historical Society Us (Beggars)
· NOFX Regaining· (Fat Wreck Chords)
· Numbers Death (Tigerbeat6)
· Omega Cinco En Tu Casa o En La Mia EP (GSL)
· Placebo Sleeping with Ghosts (Virgin)
· Portishead Alien (Go!Beat)
· Prodigy Always Outnumbered, Never Outgunned (Maverick/Warner Bros)
· Smoking Popes The Party's Over (Double Zero)
· Type O Negative The Dream Is Dead (Roadrunner)

Movies
---
Theatres:
March 14
· "Willard" (New Line Cinema)
· "Agent Cody Banks" (MGM)
· "The Hunted" (Paramount Pictures)
March 21
· "Dreamcatcher" (Warner Brothers)
· "View from the Top" (Miramax)
· "Boat Trip" (Artisan Entertainment)
Rentals:
March 18
· "8 Mile" (Universal)
· "Roger Dodger" (Artisan Entertainment)
March 25
· "Maid in Manhattan" (Columbia Pictures)
· "Friday After Next" (New Line Cinema)
Events
---
What could be better than a free movie? Come check out the 1931 classic "Frankenstein" as part of the Arizona Health Sciences exhibit, "Frankenstein: Penetrating the Secrets of Nature." It's at the Arizona Health Sciences Library tonight at 7. Call 626-6241 for more information.
"The Cider House Rules" was a good movie, but it doesn't come close to telling the whole story the way the original play can. See for yourself when the Arizona Repertory Theatre presents "The Cider House Rules Part II" tomorrow at the Marroney Theatre at 7:30 p.m. You can also catch part I at 1:30 and 7:30 p.m. Saturday. Tickets are $14-16. Call 621-1162 for more information.
Maybe it's not the Frozen Embryos, but if you miss seeing Jared Leto on "My So-Called Life," then you can catch him in his real-life band, 30 Seconds to Mars, at Club Congress, 311 E. Congress St., tomorrow at 9 p.m. The show is $10. Call 622-8848 for more information.
Get comfortable this weekend with former Weezer bassist Matt Sharp. He stops into Tucson for an "intimate evening" of music March 26. So intimate, in fact, that he is asking the audience to bring pillows and sit on the floor. The show is $8 and begins at 8 p.m. at Solar Culture, 31 E. Toole Ave. Call 884-0874 for more information.
Something to say? Discuss this on WildChat