Straight from the W.O.M.B.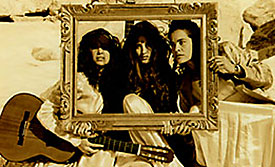 Photo courtesy of W.O.M.B.

The girls of W.O.M.B. will be brought to life this Friday night at Club Congress, 311 E. Congress St., along with openers The Hipnotwists.

By Eric Bochner
Arizona Daily Wildcat
September 12, 2002


It is almost certain that everyone has been told by some authority figure to be themselves, find out who they really are and be true to that. Most of us fell in with one crowd or another, automatically categorized by our physical appearance. Hairstyles, name brand clothing ÷ even how much our parents make annually ÷ come to determine, for the most part, who your friends are and what kind of person you've become.

But there is a trio of female musicians that would not allow this to happen to them. They design their own costumes, write their own lyrics, play their own instruments and even feature their own artwork at their concert performances. They are W.O.M.B. ÷ Warriors Of Make Believe.

W.O.M.B. is a group that came together long before most bands. As infants, they put on shows for their parents in their Florida home. Reuniting years later in Tucson, W.O.M.B. pocketed a considerable amount of fans through their first two CDs, Warriors Of Make Believe (1999) and Kinetic Music For the People (2001). They even have a book available containing original lyrics, poetry, photography and artwork. Their latest CD has left them dabbling in electrical elements.

"This is more electronic curiosity added to the same spirit of our sound," said Debbie-Lyn Lorray, bassist and vocalist. "It gives an eclectic vibe, kind of spooky and crazy vocals."

W.O.M.B creates a feeling of Renaissance, an all-encompassing art piece through visual and musical means. So, what is the message of these incredibly talented musicians?

"Be true to whatever your heart is telling you to produce no matter how whack," Lorray said. "Bring in as many elements as you want to because it can only improve."

But to the women of W.O.M.B., the group is not merely composed of two sisters and their best friend; W.O.M.B. is a separate little girl, something they call "their child." A little girl who doesn't belong to anything. She is the Renaissance child of three Renaissance women.

"She can be a little bit dysfunctional," Larray said. "Sometimes she needs a massage and a vacation."

They bring all elements of their personalities to the music and the result is a fantastically original sound adorned by captivating art. Often times, the Warriors will even have a slide show or film projection during the concert to bombard all of the senses with their artistic inclinations.

"There are no limits or caps. Push the boundaries.
-Debbie-Lyn Lorray
W.O.M.B Bassist/Vocalist

It doesn't stop there, though. You can find Debbie, Marta and Cristiana in the Supermodel Centerfold of September's issue of Java Magazine. Although they didn't get a story in the magazine, it did fuel a separate part of their music. They are all very into fashion, designing their own clothes and even putting the original duds up for sale. The emphasis that they put on the idea of the Renaissance is strong.
They are trying to make a new world to believe in, something magical and enchanted.
"There are no limits or caps," Larray said. "Push the boundaries."
W.O.M.B. will bring its folklore to life this Friday at Club Congress, 311 E. Congress St. The show costs $10 at the door. For more information call 622-8848.