Sculpting Passion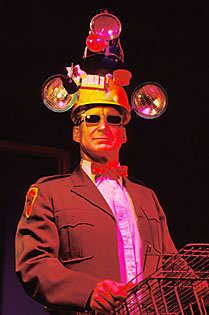 Photo courtesy of the Mat Bevel Institute

Ned Schaper, otherwise known as Mat Bevel, wears one of his kinetic sculptures as part of his show, "Love Lab."

By Lisa Schumaier
Arizona Daily Wildcat
Thursday April 10, 2003


It is not a normal scene in Tucson when the coffee guru and his cart get attacked by words while discussing rational darts and the penetrated test pilots of clouds beyond regard; but it is when talking about Pop Science Theater. But the Mat Bevel Institute always deviates from normalcy, even in theater. The Surrealistic Pop Science Theater is performing "Love Lab" throughout April, and if all goes well, audiences will demand that "high art" be the new standard.

"Pop Science Theater is what I do and it is not like normal theater. The whole thing evolved out of sculpture. At first, I would make characters and then instruments and robots," said Ned Schaper, founder of the institute and the artist behind "Love Lab."

In his studio are countless kinetic sculptures. Certain ones appear as characters during the show. While many of them have already appeared in prior performances, they are composed and function differently according to Schaper's current projects.

"For each sculpture, there is a narrative along with a monologue. So we have a synergy between the artist and his work," said Boxed Steigert, co-producer for the Zeitgeist festival at the Institute.

For those who are interested in seeing "Love Lab" but are not familiar with Bevel's projects, there are a couple of key aspects to understand. First of all, Mat Bevel does not exist outside the realm of art. Schaper is Bevel through the characters he plays.
---
Check it Out
Mat Bevel's "Love Lab" can be seen at the Mat Bevel Institute, 530 N. Stone. Showtime is 8 p.m. and tickets cost $8. The show will be running April 11, 12, 13, 18, 19, 20.
For more information call 622-0192 or visit www.matbevel.com.
---
"One of my favorite pieces is when he plays a character called Sgt. Clause and talks to Jesus. They have a dialogue that involves questions about modern materialism and commodities," Steigert said.
Next, when Schaper attempts to synopsize the show, he is quick to deconstruct even this conventional formula of theater. The storyline is elusive and in many ways, absurd.
"It starts out with a scientist and it ends with a wedding. That is basically the storyline, but it doesn't tell you anything. There is a lot of poetry that touches on tons of things; it is not a normal storyline since it is very surreal. The words come at you with 20 pages of poetry in an hour-long show. There is a soundtrack and lots of other live stuff," Schaper said.
"╬Love Lab' is part of a holistic integrated story. All these pieces go together like a caterpillar, and Ned sees himself as a moth emerging from a catharsis. His approach to love is working out of the catharsis of the angst of love," Steigert said.
So without traditional actors and a plot, Surrealist Pop Science Theater thrives on inspiration.
"The whole thing is set up so that when people walk in the door they say, ╬Wow.' It is a gateway to thinking about the world in a different way, right as you walk in. Then people walk out with some idea of what is possible in their own lives and society along with a different appreciation for art," Robert Piezer said.
Piezer has known Schaper for 27 years. He has seen his work evolve into what it is today, but Piezer is also behind the sounds of "Love Lab." As Swami Robby Bobbi on stage, he will be doing Congolese drumming and playing background keyboards.
"Ned is a modern shaman. He gives people a different way to relate to their society. In this particular piece, he is concerned with relationships, how men and woman relate to one another," Piezer said.
And maybe this is what is meant by "high art." It is experimental in the ways it engages the viewer to think about his or her own world and not just the world enacted on stage.
"There is a lot of action, these great transitions and beautiful music, nonsensical phrases that come across," Schaper said. "There is a lot of science. I was a physics major coming from a family of engineers. I never took art, so I am not into this flaky art."
"High art" comes to mean a transcendence of sorts. His theater is poetic, but it is also philosophical. Love Lab is part of a huge epic that has ensued for years. This show has 13 pieces, but it is part of 400 installments.
"Each show stands on its own. It is being able to appreciate something in nature, but it's not the whole world ¸ just part of it. You don't have to go to the whole world to appreciate a tree. I compare it to nature because that is a big part of what I believe in making art and creating ¸ kind of like the creative flow that goes on in the universe. We see it as the evolution of nature," Schaper said. "The idea is that we live in a contrived world. Our world is based on legality and Home Depot. It does not capture the true creative current. What we have then is art. Artists capture that way of evolving material, and we see that and think it is beautiful. We are touched because it reminds us of the natural evolution."
"He allows a place for the community to come together to process sociopolitical and personal emotions. It is almost shamanistic in away," Steigert said.
Another recurring trope with Schaper is the concept of "modern shamanism."
"I think the audience will experience an altered state, if they follow the narratives and let the visuals take over," Steigert said.
"I am in the business of inspiration. In the rational world, we forget that we need to feed the mind. It our job to communicate deeper with ourselves," Schaper said.
Much of this communication is channeled through military characters. In fact, there are numerous military references in the work. It is about what machines do, but the performance has little correlation to our present crisis.
"It just comes out. I don't really think that way. I don't plan anything.
It evolves in freeform. The junk just comes to me. I have military, religious, and sport characters. There is a Santa Claus that is half-military," Schaper said. "But you have to think of words differently here. I abuse words because if I can explain what I do in normal words, I wouldn't be doing what I do."
His job in "Love Lab" is precisely that of a mad Shakespearean scientist. He speaks in obscure languages deemed as poetry. He takes on the alter-ego of Mat Bevel. Standing in tribal garb of white overcoats, he demands change in the world from clucking wire monkeys and flapping brides that hang from the ceiling. Talking to Jesus does not normally occur in a lab, but this is theater. In short, what constitutes "high art" is absolute madness.
"All art should remind you of madness. The reason why is because we can rationalize ourselves into a deep depression where it seems like the world is hopeless. That is a common part of civilized society. Madness means animal nature. It is the idea that the world is full of what you don't know, and when you see real art you are reminded of that. Ě People are reminded of madness while they are having an event with their people, and that is what ritual is. It is a madness that you are not thinking about in your normal world of problems."
Something to say? Discuss this on WildChat