On the Spot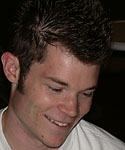 Andrew Hill
physics, astronomy, and math senior

By Arek Sarkissian II
Arizona Daily Wildcat
Thursday April 24, 2003


Two people with multiple majors aren't sure what they want to do, but it might involve burgers

WILDCAT: Any relation to Chief Richard Miranda?

MIRANDA: No, not that I know of.

WILDCAT: Oh, he's a swell guy. So all this at the Union on a Wednesday night. Is this like the study night for everyone? Is Wednesday's like, "I've got to get all my stuff done," so Thursday's all "Woohoo! I'm going to go party!"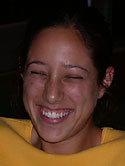 Matti Miranda
physics and chemistry sophomore
HILL: Well, I have to study every day.
WILDCAT: Oh yeah! What the hell is up with three majors?
HILL: I think I was drinking heavily when I made the decision.
WILDCAT: Are you drunk now?
HILL: Uh, (smiles) no comment.
WILDCAT: OK then, what about you? You're taking a buttload of majors, why'd you do it? I mean, I'm having trouble with one major, let alone two.
MIRANDA: I like them both.
WILDCAT: Right on. Well what are you planning on doing with three majors? Are you going to have like, three jobs at once?
HILL: I'm hoping for no jobs. I'll be a professor or something. Or I could work at McDonald's, I can sweep, run the register.
WILDCAT: And you can understand how the hamburger cooks.
HILL: Yeah.
WILDCAT: So about that, is the cooking of a hamburger a chemical change or a physical change? You know, when the meat turns from pink to brown?
HILL: I don't know, man, I think that's her. She's the chemist.
WILDCAT: Well, I'm sorry! What is it a physical change?
MIRANDA: Yeah, kind of.
WILDCAT: Well let's have a quiz here, what's a pure metal?
MIRANDA: Aluminum.
WILDCAT: What's your favorite?
MIRANDA: Um, I don't have one.
WILDCAT: Well what about gold? Well no, gold is too chintzy, too bootylicious or something.
MIRANDA: Yeah, it's been done. I like the noble gases.
WILDCAT: Wow, that sounds like a cheap knock-off or something. You're all, "Check it out! I got some of these noble gasses from Costco!"
Something to say? Discuss this on WildChat