Power 'Sirge'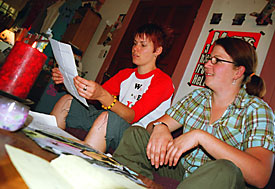 DEREKH FROUDE/Arizona Daily Wildcat

Manda Prendergast, a social worker, and Sheryle Rivers, a liberal arts student at the Arizona International College, browse through the letters and artwork submitted for their Īzine yesterday afternoon.

By Orli Ben-Dor
Arizona Daily Wildcat
Tuesday April 29, 2003


Student-founded Īzine urges young women to speak up

"Calling out for your voices. Let's display what goes underplayed," the flyer reads. Meet who's calling: Manda Prendergast and Cheryle Rivers, two people that can't stand inaction when something needs to be done. And according to their feminist thoughts, something needs to be done to get fresh female voices audible. The two, who have been friends for just one year, are calling out to women across Southern Arizona to join them in their gender-bending venture: Sirge.

On a Tucson winter day just months ago, Rivers and Prendergast decided to create a platform where fresh female voices can speak out somewhere other than a boring podium and with voices not necessarily using words to communicate. Rivers, a UA liberal studies senior, and Prendergast, a '99 graduate of Bates College in Maine, decided that day in January to join the Īzine underground culture with Sirge, a women's magazine made up of submissions by females in the region.

Free from reporting to corporate big bosses or even any outside sponsors ÷ the only sponsors are their own pockets ÷ the girls behind the Īzine are in charge, answering only to their passions as feminists and artists as well as providing an answer for women who seek an outlet for their expression, in whatever form that could possibly fit in a magazine. Rivers and Prendergast take on the task of creation with open arms and excited eyes, both anxious to see what this venture will produce.
---
Send all submissions to:
Sirge Submissions
442 Drachman
Tucson, AZ 85705
or
sirgezine@yahoo.com
by June 30.
Make sure to include contact information.
Submissions will not be returned.
---
"We just really want to hear what women are up to, what they're doing, what they're feeling, what they're thinking about at this time, currently," Rivers said.
Rivers and Prendergast look forward to seeing submissions from women of all ages and levels in forms ranging from photography, poetry and essays to explanations of performance art. Besides providing an outlet for women to display their recent efforts, the two leaders of Sirge hope that through the artistic efforts, women across this area of Arizona will connect.
"Our target contributors are women in Southern Arizona. If they live in Flagstaff, I'm not going to say, ĪNo, I don't want to see it.' I want to say that within a certain region there's a consciousness going on that we want to unearth. I think by seeing other people and other honest writing from people who you didn't know had the same voice that you had, it empowers people," Prendergast said.
The two are careful to articulate that the voices won't necessarily sing in harmony and they can't predict how this consciousness will sound or appear. Rivers and Prendergast approach the project with no expectations of what women are saying these days. Whether Sirge sparks dissonance or accord remains a point of interest but not of intent for the founders.
"We especially want it to be an open forum, an open platform for the female voice to come in. We're not going to presume what that voice will be. We just want to say, if you want to say something then we want to put it out there," Prendergast said.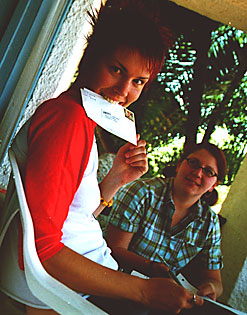 DEREKH FROUDE/Arizona Daily Wildcat
Sheryle Rivers and Manda Prendergast are accepting writing and art submissions for their magazine, Sirge, through June 30.
Rivers and Prendergast have unique voices themselves, accentuated by their actions. Instead of talking and planning, these two have been busy orchestrating and executing other projects besides Sirge. Prendergast and Rivers fit in Art Night every once in a while among friends and acquaintances when they're not too exhausted from their jobs as social workers. Rivers works as a primary care worker at Casa de los Ninos while also getting credit from the Arizona International College. Prendergast works as an activities coordinator at Pima Prevention Partnership, a government grant-based organization that helps physically or mentally disabled individuals who also are recovering from addiction. After teaching creative writing there, Prendergast has another Īzine in the making. Prendergast also deejays Madcap Radio, a two-hour punk radio show on KXCI 91.3 that features local, unsigned and independent rockers.
But more than any organized efforts the ladies find themselves undertaking, they say one of the most important things is just having honest conversations with people.
Speaking of honesty, men who are dying to get published should skip the prissy penname and submit to their own Īzine.
"We chose wanting to hear from women because it is underplayed. If we left it open to men, it would be an entirely different project," Rivers explained.
Still, the two decided that during the editing process they would certainly consider a man who can identify strongly with the experience of being a woman in this society, like a transgendered male.
Woman or man, transgender or not, Sirge aims to boost the exposure of the thoughts, feelings and artistic efforts of their peers. For the girl who's too afraid to raise her hand in class or the writer who can't wait for that first published clip, for the activist and the artist, Sirge awaits your submissions.
In a sense, Sirge is like an extended nonverbal conversation among women in this region, where Rivers and Prendergast initiate the exchange and cross their fingers that their women peers will flood them with fresh, pensive and creative responses.
To participate in this conversation, the founders don't ask that you are an accomplished writer with credentials, or painter whose art hangs on gallery walls. Instead, just communicate your state of being in this moment of life, Rivers said.
"I guess the only thing we're asking from people is that the submissions are pretty current, very fresh ÷ not a poem from five years ago, but something from today. What are you doing today? What are you thinking about today? What are you feeling today?"
Something to say? Discuss this on WildChat