KAMP sets sights on AM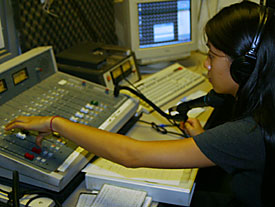 JILL MARICICH/Arizona Daily Wildcat

Caroline Diep DJs at KAMP Student Radio for her alternative rock show, Robot Factory, which airs every Tuesday from 2 p.m. to 4 p.m. KAMP hopes to gain a larger listening audience by broadcasting over an AM radio frequency. Currently, the campus station's listeners must tune in on the Internet or on channel 20 in the residence halls, from 9 a.m. to 2 a.m.

By Nate Buchik
Arizona Daily Wildcat
September 18, 2002


College radio will soon have a stronger voice on the UA campus, KAMP general manager Brian Van Buren believes.

While currently only available through the Internet, KAMP Student Radio hopes to expand to the airwaves through an AM station and get more students at UA to tune in.

KAMP offers more than 60 different shows broadcasted between 9 a.m. and 2 a.m. Since it is an entirely student-run organization, the variety of student tastes is represented with shows dedicated to everything from hardcore punk to sports talk to Indian pop. They also do play-by-play for UA softball.

"You'll find a show for whatever you like. And if there isn't one, join and make one. We are a unique medium in that we can play and say whatever we want. Most commercial radio stations are not even locally owned and the DJs don't really have any choice in what gets played," Van Buren said.

KAMP Student Radio and the Arizona Daily Wildcat are both divisions of Arizona Student Media.

Van Buren thinks people tend to forget that college radio was the starting ground for most famous bands and that the future of music can already be heard at KAMP.

"Nirvana would not have happened if it wasn't for college radio · Punk would not have survived the '80s if it wasn't for college radio, and rap was initially only played on college radio."

The bands played on these non-commercial stations also recognize how important and unique the programming can be.

Sam Powers, bass player for the band Superdrag, whose latest album Last Call for Vitriol climbed as high as number five on the CMJ top 200 (College Music Journal), said college radio is important for their band and for students to expand their musical knowledge with the potpourri that college stations provide.

"From my experience, in one day you can have anywhere from 10 to 20 different shows all lasting in various lengths. Sometimes it'll be all blues or all country or all techno or rap or power-pop or 80's post-punk. The sheer variety is amazing·and I think that college radio has turned on a lot of college kids on to our music for sure," Powers said.

KAMP has been off the air since 1999, when KUAT complained that it was interfering with their frequency. KAMP lost the frequency because it was originally allotted half a watt of power but the staff at KAMP increased their power to 30 watts to get a larger broadcast area, Van Buren said.

Now KAMP wants to rebound.

With the addition of an AM antenna that should sit atop the Gould-Simpson building within the next two months, KAMP will be moving toward becoming a more recognized station on campus.

The antenna is the first step in getting KAMP out on the airwaves, albeit a small one, since the signal would not reach all the dorms on campus. The ultimate goal, Van Buren said, is to get a Low Power FM (LPFM) license.

"Right now we are one signature away from getting another low wattage AM frequency up. But LPFM is the ultimate goal, because then we go from a three quarter mile radius to a three to five mile radius on our transmitter," said Van Buren.

The $1 student fee that supports KAMP radio will pay for the AM antenna, which KAMP advisor Mike Camarillo said will cost between $10,000 and $15,000. If they were awarded an FM station, the cost would be significantly more but KAMP would be able to manage, said Camarillo.

KAMP has been waiting since June 2001 for a decision on an FM frequency from the Federal Communications Commission.

Originally there were 15 non-profit organizations that applied for the only available Tucson area frequency, at 100.5 on the FM dial.

Now there are four stations in the running.

"The FCC have been dragging their feet." Van Buren said. "Theoretically, we have a leg up, because we've been operating (since 1988), but we don't know for sure. We could find out tomorrow or we could find out in another two years."

While they continue to wait for word on LPFM, an AM broadcast will help KAMP catch up to other college radio stations at rival universities.

Of the Pac-10 schools, UA is one of three broadcasted only on the Internet.

"It's difficult to hold our listeners via the Internet," said Camarillo. "And it's important this year that the students take notice of the station."

Promoting itself on campus is an important issue for KAMP, which hosts events on the Mall and relies on word of mouth to get the word out about the station.

However, a more hands-on campaign may be necessary. Student Media web tracking showed there were 467 user sessions on the web site for KAMP from Sept. 8 to 14, which also can be heard on channel 20 in UA dorms.

Van Buren believes that increased promotion and the AM station will translate to more listeners.

"I do believe it will make more people listen. It will be a quantum leap from what we're doing now. And we're going to make a lot of noise when we get it. Everyone will know we've got this AM transmitter."

(a)Do you listen to KAMP radio? Why or why not?
(b)Do you mind only listening over the Internet? Why or why not?
---
a) No, I do not. I've never even heard of it.
b) That's a problem · it'd be better if it was on the radio.
Anthony Necco
architecture freshman
---
a) No, I just transferred here so I don't know too much about it.
b) It doesn't bother me as long as it's clear. There's no possibility of getting out of the area of the broadcast center.
Adam Much
physics junior
---
a) No. Just because I listen to CDs at home and when I'm in the car I listen to radio that's on the AM and FM dials.
b) If it was broadcast on FM and AM channels, I would definitely listen more because I'm in the car a lot.
Paige Haber
business management and German studies senior
---
a) No, I don't know the call numbers.
b) What I've heard from them, they do stuff on the Mall. They usually play party music and it's not my type of music.
Alexis Leigh
aerospace engineering sophomore
---
a) Yes. It gives a mix of music that I like, unlike other radio stations.
b) I don't mind. It works straight through my Winamp and I only listen to it in my room anyway.
Ty Button
political science senior