Concern for Dele mounting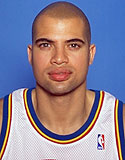 Bison Dele
former UA Basketbal forward

By David Stevenson
Arizona Daily Wildcat
September 18, 2002


Bison Dele used to be a fixture on the UA campus, but the former Wildcat basketball player, who has been missing at sea for over two months, hasn't been back to Tucson in a couple of years.

Dele returned to UA in 2000 to play in a fund-raising basketball game spearheaded by ex-Wildcat Steve Kerr, and it was the last time he was on campus.

"(Head coach Lute Olson) and I are really concerned He was such a free-spirit, a good student and is one of our guys in our basketball family," associate head coach Jim Rosborough said yesterday.

His former teammate and friend Matt Muehlebach also remains waiting for news on the player's whereabouts.

"It's probably affected me like everyone else," said Muehlebach, who is now a lawyer in Tucson. "I'm just trying to get all the facts."

Dele's three-year Wildcat career made him the 10th-overall pick in the 1991 NBA draft öö but that wasn't how his teammates remember him. Instead Dele was known for being an emotional leader with a variety of interests that didn't fit the norm of an average college student.

Dele has been missing since July 8 when his boat was found in Taravao, Tahiti, abandoned. His girlfriend and the boat's captain are also missing and the FBI has turned the case into a murder investigation. Known to the UA as Brian Williams, Dele changed his name in 1998 to honor his American Indian ancestry.

Dele was never the "normal" college student at the UA. During his years in Tucson he had an apartment decorated with Indian cultural artifacts, but with a modern style.

"In my apartment I had a bunch of Bud Light posters on my walls. Brian had a bunch of fashionable stuff," Muehlebach said. "He was more sophisticated beyond most college kids."

Besides the apartment, Dele played polo on a regular basis and drove a vintage convertible similar to that of current UA senior forward Luke Walton. Meanwhile, most of his teammates used bikes and mopeds as their means of transportation.

Dele transferred from Maryland after his freshman year in 1989 and came as one of the most talented players in Wildcat history, Muehlebach said. Team practices were full of spectators who anticipated his first season.

The pressure was tough for him to handle and he struggled at the start of his sophomore season, but the team helped him through it, Muehlebach said.

"It was tough for (Dele) at first because the expectations for him were so high and he hadn't played for a year," Muehlebach said. "It threw him off at the beginning but we got to understand him."

He quickly overcame the sluggishness and averaged 12.3 points, 6.6 rebounds and 1.2 blocks during his two years in Tucson.

Associate head coach Jim Rosborough remembered two games in 1991 that stuck out when thinking about Dele.

On Feb. 10, 1991, Dele led all scorers with 32 points in a 105-94 overtime win on the road against UCLA. He was 14-15 from the field and finished the night with 14 rebounds.

Later in the season on Feb. 24, Dele scored 24 points to lead Arizona in a 103-96 double-overtime win against eventual NCAA champion Duke.

"I think one of my most vivid memories of him was when he was running across the floor with his fist raised high (during the game)," Rosborough said. "He had a phenomenal game and when he was playing well, we were tough to handle."

Dele was known to his Wildcat teammates as team player with a big heart. He was a great athlete who had a "mean streak," Rosborough said.

Dele played passionately and was one of the first guys to simultaneously dunk and yell, Muehleback said.

He left the UA after his junior season and was drafted by the Orlando Magic. Dele averaged 11 points and 6.2 rebounds over his eight-year career with six teams and won an NBA championship in 1997 with the Chicago Bulls.

But basketball wasn't his top priority in life, Rosborough said. Dele retired at the end of the 1999 season for the Detroit Pistons in the middle of a five-year contract and left $30 million on the table. He bought a boat named the "Hakuna Matata" and sailed to various parts of the South Pacific.

No one has heard from him in over two months.