Athlete of the Week: Andrae Thurman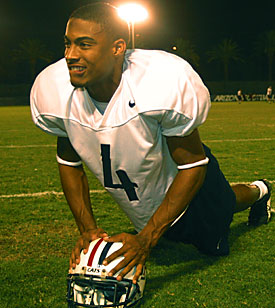 JILL MARICICH/Arizona Daily Wildcat

The Arizona Daily Wildcat has named Andrae Thurman the Athlete of the Week for his performance against Utah on Saturday. The junior receiver had nine catches for 165 yards and a touchdown. Both the yards and the catches were career highs for Thurman.

By Charles Renning
Arizona Daily Wildcat
September 18, 2002


Sport: Football

Position: Receiver

Year: Junior

Major: Family studies and human development

Hometown: Avondale

Why Thurman won: Thurman caught a career high nine passes for 165 yards including a 44-yard touchdown in the third quarter of UA's 23-17 victory against Utah. Thurman has emerged as the Wildcat's No. 2 wide receiver behind Bobby Wade, something the entire coaching staff was looking to happen.

Wildcat: Describe the feeling of your win Saturday?

Thurman: It was a big win, a big fourth quarter win. A kind of win I haven't experienced in a long time.

Wildcat: What's your favorite TV show?

Thurman: "Jackass."

Wildcat: What is the first thing you do when you wake up?

Thurman: I wake up and brush my teeth.

Wildcat: Who is your favorite band/artist?

Thurman: The Beatles.

Wildcat: What is the best sports movie of all-time?

Thurman: "A League of Their Own."

Wildcat: What is your favorite thing to do when you are not playing football?

Thurman: I like playing basketball. I'm actually pretty good, too.

Wildcat: Who do you like to win the NBA Championship next year?

Thurman: The Wizards, because of MJ.

Wildcat: If you had a million dollars, what is the first thing you'd buy?

Thurman: A house for my mom.

Wildcat: If you could meet anyone, dead or alive, who would it be?

Thurman: Martin Luther King Jr.

Wildcat: Name one thing you are afraid of?

Thurman: I'm not afraid of anything.

Wildcat: Should coach Machovic wear his suit, or stick with the polo?

Thurman: I think coach should wear the suit. I like the suit.

Wildcat: Word association ÷ Wildcat.

Thurman: Hard work.

Wildcat: Bobby Wade.

Thurman: Best friend.

Wildcat: Number 4.

Thurman: He's ready.

Wildcat: Wisconsin.

Thurman: It's on.