Wildcats, Kraschinski win NCAA Preview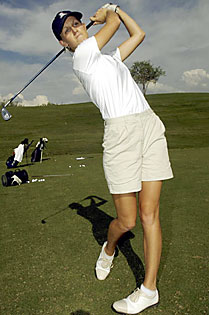 Photo courtesy of Arizona Sports Information Department

UA sophomore golfer Miriam Kraschinski won her first collegiate tournament yesterday in the Indiana NCAA Preview. The Wildcats also took home the team championship at the tournament.

By Maxx Wolfson
Arizona Daily Wildcat
September 18, 2002


Greg Allen knew his team was close, but he didn't know how close.

He knew that the UA women's golf team ÷ the team he has coached at UA for three years ÷ would need to beat Oklahoma State's score by at least four strokes on the final day if they were going to win the NCAA Preview at the Birck Boilermaker Golf Complex in Indiana.

So when he saw OSU head coach Amy Weeks outside the clubhouse minutes after his team had finished he had to ask what her team shot.

"We shot a 10 over," Weeks said.

So Allen knew his team won because the Wildcats shot a four-under.

"I just couldn't be happier," Allen said. "This is the biggest tournament of the fall. We didn't even play our best and we were able to win."

For the second day in a row, UA posted the best team round as they shot 4-over-par 292 to complete the tournament at 889 (+25).

The good news for the Wildcats did not end there. Sophomore golfer Miriam Kraschinski also won the individual tournament yesterday as she matched her second-round score of 2-under-par 70 in the final round.

"I'm really excited and it's a great way to start the season," she said. "I took off most of the summer and for some reason I came out this weekend and I had a lot of confidence."

Both Allen and Kraschinski also mentioned they were happy with the play of the team's two freshmen Erica Blasberg and Whitney Welch.

"We're really going to count on them this season," Allen said. "Even though we lost Lorena (Ochoa) I think we are a deeper team this year than we were last year."

Blasberg and Welch did not disappoint in their first tournament.

Blasberg, a former American Junior Golf Association All-American, shot 2-over 74 and closed action at 226 (+10). Welch, who shared 28th place as her final-round 75 put her at 12-over-par 228 for the tournament.

By claiming the team title, the women's golf program extended its streak of eight consecutive years with at least one team championship. In yesterday's final round, four of the five members of the Wildcat lineup shot its best round of the tournament.

Arizona returns to action Monday when it will head to Nashville, Tenn., for the Mason Rudolph Collegiate Championship.

"This win was huge for us," Allen said. "It's a great confidence boost."