Men's Basketball Notes: Olson praises team's athleticism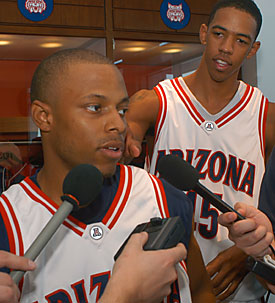 Kevin Klaus / Arizona Daily Wildcat

Sophomore Channing Frye distracts senior Jason Gardner during media day yesterday at McKale Center. Gardner once again will lead a preseason No. 1 team with national championship aspirations.

By Maxx Wolfson
Arizona Daily Wildcat
Wednesday October 16, 2002


During yesterday's media day for the men's basketball team, the reoccurring question of the afternoon posed to head coach Lute Olson had to do with the team's abundance of athletic talent.

"This is the most athletic team I have ever had," Olson said. "We have had other teams that are very athletic but not as deep."

With four incoming freshmen ÷ Andre Iguodala, Hassan Adams, Chris Dunn and Chris Rodgers ÷ all having the ability to fly up and down the basketball court, Olson said that he is going to make a change to his defense this year.

He will apply the full-court press for all 40 minutes in each game.

"I hope we can create more havoc on the defensive end of the court," said Olson, who tried to press in the 1993-1994 season but was unable to sustain it throughout the year. "We want to be able to turn turnovers into quick baskets and I think we are deep enough to do that at every position."

Also, by adding four freshmen to an already deep roster, it will allow senior point guard Jason Gardner to sit for more than the 1.8 minutes of rest he averaged last season ÷ or at least Gardner hopes so.

"I would love to get more of a rest. I guess we will just have to wait and see if that happens," Gardner said.

"He is the most well-conditioned athlete that I have ever seen," Olson said. "Last year, we couldn't expect him to extend out on defense."

In practice, sophomore Will Bynum and Rodgers have both been playing point guard.
---
This season, the men's basketball team will return all five starters, a sharp contrast to last year, when UA had only one returnee, Gardner.
Having such an experienced returning core allowed the veterans to tutor the newcomers throughout the offseason.
"We'll be able to take things in the order in which they should be taught, as opposed to having to force-feed them last year and trying to fill in all the gaps at a later time," Olson said. Last season, the Wildcats started the season against Maryland on Nov. 8, in the Coaches versus Cancer IKON Classic, which was college basketball's first game of the year.
This season, because of the team's trip to Australia over the summer, they will not play until Nov. 23 against Western Kentucky.
"I wish we could play more games earlier, but it will be nice to get some work done before, too," senior forward Luke Walton said.
---
Olson named the three captains for this year's squad and, not surprisingly, they will be Gardner, Walton and Rick Anderson ÷ the team's three seniors.
"So far, the chemistry on this team has been great and I would like to thank the senior tri-captains for that," Olson said. "Just as they did a year ago with last year's freshmen, they have gone out their way to make sure the current freshmen class understands the responsibility of being in this program and what it means to put on a jersey with Arizona across their chest. They have done a tremendous job."
With nine of the 12 players on the roster being underclassmen, Olson will rely heavily on his three seniors to be leaders on the court.
"Normally, that would bode well for the future; but as things go now, we never know if we will have anybody," Olson said. "I don't think it's possible to have a really great team without senior leadership."
But Olson also believes the five sophomores are not typical sophomores because each of them was forced to grow up in a hurry last season.
"I can't believe that I have been here only a year," said sophomore Channing Frye, who has gained nearly 30 pounds since coming to Arizona. "I feel like I'm already a junior."
---
Olson said that even though the team is returning all five starters from last season, no job has been won, despite the fact that Gardner has been the team's starter at point guard since he arrived three seasons ago.
"This is open season. Show us what you can do," he said. "Our returning players know that and the freshmen know that we are being evaluated every day."
Olson typically only goes eight deep on his roster, but said yesterday that this is the first time he has had the talent to go even deeper than that.