Athlete of the Week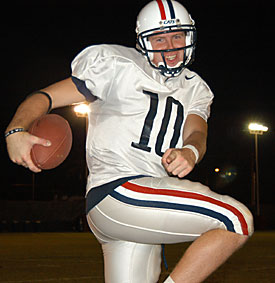 SAUL LOEB/Arizona Daily Wildcat

Senior quarterback Jason Johnson is this week's Athlete of the Week after having a career day in a losing effort to Washington last weekend.

By Jeff Lund
Arizona Daily Wildcat
Wednesday October 16, 2002


Name: Jason Johnson
Sport: football
Position: quarterback
Year: senior
Major: business management
Why he won: Johnson threw for an Arizona record 443 yards and three touchdowns in Arizona's 32-28 loss at Washington. Johnson completed 29 of 41 passes and had one interception. Johnson is third in the Pac-10 in passing yards and 10th in the country.

Wildcat: What are your thoughts on your record setting performance?

Johnson: Last week was a special week playing in front of my hometown, and I just had some great receivers that made some plays.

Wildcat: What about Pac-10 player of the year, have you given it any thought?

Johnson: I don't really worry about personal accolades. I am just thinking about having a good season and going to a bowl game.

Wildcat: So you don't save any of your newspaper clippings?

Johnson: My parents do.

Wildcat: What is your favorite TV commercial?

Johnson: It would have to be the ESPN SportsCenter commercials.

Wildcat: What music is in your car right now?

Johnson: The top stuff I am listening to are all burned CDs.

Wildcat: So you're an internet music pirater?

Johnson: Uh, no, lets keep that on the down low, or download.

Wildcat: Bobby Wade said last week that he is pro-black. So, are you pro-white?

Johnson: I'm pro-Bobby Wade.

Wildcat: If you could pass to any receiver past or present who would it be?

Johnson: Jerry Rice.

Wildcat: What do you say in the huddle after a sack?

Johnson: I try and stay positive and say "you can do it, all I need is a little time."

Wildcat: Have you ever fallen asleep in class?

Johnson: Never, that's what the crossword puzzle is for.

Wildcat: Who is going to win the World Series?

Johnson: Angels

Wildcat: Do you ever watch the "Crocodile Hunter"?

Johnson: Steve Irwin is the man. Steve Irwin would make a great fullback.

Wildcat: What is going to be your Halloween costume?

Johnson: A Big Mac

Wildcat: What is your favorite candy?

Johnson: Tootsie Roll

Word association

Wildcat: Nintendo.

Johnson: Tecmo Bowl.

Wildcat: Blue Book.

Johnson: Unnecessary.

Wildcat: Huskies.

Johnson: Uh · too much comes to mind.

Wildcat: Panda Express.

Johnson: Never.

Wildcat: Washington.

Johnson: Home state.

Wildcat: 80-yards.

Johnson: (silence)·. No comment.

Wildcat: Senior.

Johnson: Savor every moment.