NAU hoping to give UA dose of its own medicine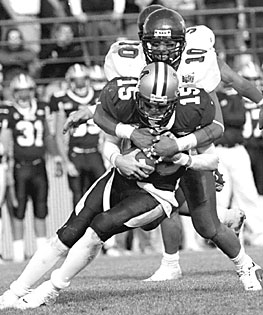 Photo Courtesy of NAU Sports Info.

NAU linebacker Kaaina Keawe will finally have a chance to play in Arizona Stadium ÷ against the team he had hoped to join.

By Maxx Wolfson
Arizona Daily Wildcat
Thursday August 29, 2002


After not recieving a UA scholarship, Lumberjack eager to take on Wildcats

Kaaina Keawe has been to Tucson before.

It wasn't for vacation and it wasn't to watch a football game.

The Northern Arizona all-conference senior linebacker arrived in Tucson in 1998 on one of his recruiting visits.

Keawe wanted to become a Wildcat but he didn't fit into the Wildcat's plans and was never offered a scholarship.

So the 6-foot-2, 218-pounder chose to go north of Tucson and stopped in Flagstaff. He chose to play football at NAU because he felt it was close to home.

When you're a native of Hawaii, apparently Flagstaff is closer to home than playing football in New Zealand.

However, Keawe can't be happier with his decision to play for head coach Jerome Souers.

Now Keawe will get his chance to play on the field and against the team that at one point he wanted to play for ÷ the Arizona Wildcats on Saturday at 7 p.m.

"I can't wait to play this football game," Keawe said. "I think this is a huge game for our program for two reasons. First to gain respect in the state because everyone in Arizona is either a Sun Devil or Wildcat fan and we want to show the people in Flagstaff that we play good football. Secondly, we have something to prove."

It won't be easy. The Lumberjacks come into Tucson as a huge underdog and play an Arizona team that is ready to prove that they are once again a power in the Pacific 10 Conference despite not playing in a post-season bowl game in three years.

Despite playing in different divisions the two teams do have some similarities. NAU uses a similar defense to what the Wildcats have used for over a decade ÷ the double-eagle flex.

"They came down here a couple of years ago and spent an extensive amount of time studying this defense, and they play it in its purest form," UA head coach John Mackovic said. "We will see the double-eagle flex on both sides of the ball with exactly the same lineups.

"They are making the same kinds of transitions that we have been talking about making. They will have a good idea about what to do and how to attack us, but I think that we will have a good idea as well."

Keawe has flourished in his role in the flex defense. He has finished second on the team in tackles the past two seasons and, along with Keith O'Neil, they anchor the deepest position on the NAU defense. Last season, O'Neil, who was an All-Big Sky first-team selection, finished with 83 tackles, while Keawe recorded 78.

"Our linebacking corps is going to lead our defensive unit and have an impact on a game that great linebackers are capable of doing," Souers said.

That could be good news if the Lumberjacks want a repeat performance of their 2001 season in which they finished 8-4 overall and 5-2 in the Big Sky Conference. Some of the Division II pollsters think that is possible giving NAU a preseason ranking of No. 20.

"Our poll ranking is a good start but I think we can move up by the end of the season," Keawe said.

If the Lumberjacks are going to be able to accomplish that they will have to look to junior wide receiver Johnny Marshall and junior-college transfer quarterback Clint Womack, who received a medical redshirt season after an injury in the third game.

Marshall, who went to Phoenix Brophy Prep., and was friends with UA wide receiver Andrae Thurman who went to nearby Westview High School, anchors the one-two punch in the passing game with fellow junior Clarence Moore. Womack entered the fall as the No. 1 quarterback on the depth chart. He boasts an impressive resume from Grossmont College in California where he ranked sixth in the state in passing yardage, completing 201 of 345 passes for 2,802 yards and 26 touchdowns.

"They do a lot of everything (on offense)," Mackovic said. "They're very similar to us in the sense that they are multiple. What I will expect is that they will take some of the best things people did last year that they saw on film and try to use those against us."