U.S. attorney indicts two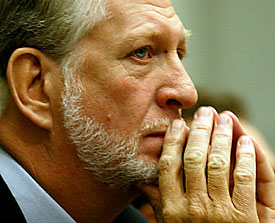 Associated Press

Former WorldCom Chief Executive Officer Bernard Ebbers appears at the House Financial Services Committee hearing on WorldCom earlier this month. A firm controlled by Ebbers bought $400 million of stock with loans from WorldCom in 1999, shortly before the corporation's stock plummeted. The Birmingham News reported Wednesday, Aug. 14, 2002. Company and property records show the loans to the Ebbers-controlled Joshua Timberlands LLC for the purchase of 460,000 acres in Alabama, Mississippi and Tennessee were backed by Ebbers' WorldCom stock, which fell by 73 percent in 2000.

The Associated Press
Thursday August 29, 2002


NEW YORK ÷ Prosecutors indicted two WorldCom Inc. executives Wednesday, including the telecommunications giant's former chief financial officer, Scott Sullivan.

They also signaled that three other executives were prepared to plead guilty and cooperate with investigators, giving momentum to the criminal probe of the nation's largest accounting scandal.

A seven-count indictment filed in federal court in Manhattan charges that Sullivan, 40, oversaw a long-running conspiracy to hide operating expenses in order to boost earnings reports. The charges were filed after an apparent breakdown in plea negotiations between his lawyer and prosecutors.

"We will prosecute the CFOs and controllers who give the orders from the top to commit white collar crimes," U.S. Attorney James Comey said in a statement Wednesday. "But we will also prosecute corporate officials at all levels who knowingly carry out criminal schemes which defraud the investing public."

Former WorldCom CEO Bernard Ebbers was not mentioned in the indictment, and his lawyers have said he had no knowledge of the accounting decisions in question.

Sullivan's attorney, Irv Nathan, has said his client was a victim of a rush to judgment.

Prosecutors signaled in court papers that three other executives may prove important in the investigation: former Controller David Myers, who was charged in an earlier criminal complaint, but not in Wednesday's indictment; and accounting executives Betty Vinson and Troy Normand, who were named unindicted co-conspirators.

Marvin Smilon, a spokesman for the U.S. attorney, declined to say whether the three are cooperating with prosecutors. Attorney for the three did not immediately return calls for comment.

But newly filed documents show Myers, Vinson and Normand are preparing to waive their right to be indicted by a grand jury and instead come to court to answer a criminal information.

A criminal information is used by suspects who plead guilty under an agreement with authorities.

The indictment also names a new defendant, Buford Yates Jr., WorldCom's former director of general accounting, in the alleged scheme to artificially boost WorldCom's bottom line.

"Sullivan, Yates, and their co-conspirators were able to assure that WorldCom's reported earnings exceeded its actual earnings for the period from October 2000 through April 2002 by approximately $5 billion," the indictment said.

Sullivan allegedly instructed the executives to hide WorldCom's increasing expenses by improperly shifting costs from operating to capital accounts.

The moves allowed WorldCom to claim to investors that their line costs were roughly 40 percent of their revenue between 1999 and 2000 ÷ when the true figure was roughly 50 percent. The indictment charges the conspirators illegally manipulated credits and debits entries in WorldCom's ledgers.

"As Sullivan, Myers, Yates, Vinson, and Normand well knew, there was no justification in fact or under generally accepted accounting principles for these entries," the indictment says.

WorldCom, which owns MCI, the nation's second-largest long-distance company, filed for Chapter 11 bankruptcy July 21 after disclosing the accounting abuses. It was the biggest such filing in U.S. history. Since then, the company has disclosed an additional $3.3 billion in inflated profits.

Sullivan, who is free on $10 million bail, could get up to 65 years in prison if convicted on charges of securities fraud, conspiracy and filing false statements with the SEC. But federal guidelines call for a sentence of 10 years or less.

Attorney General John Ashcroft said the charges showed the Justice Department's commitment to "prosecuting corporate law breakers and protecting the savings and pensions of Americans."

The arraignments of Sullivan and Yates were not immediately scheduled.

The company, once considered a potential target itself, has not been charged. It has said that it is cooperating with the investigation.