Speedway divides university reaction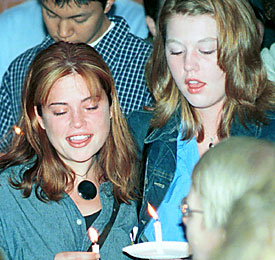 JILL MARICICH/Arizona Daily Wildcat

Two UA students embrace last night at a candlelight vigil in front of the "Swede" Johnson building to remember those who lost their lives in yesterday's shooting.

By Rachel Williamson
Arizona Daily Wildcat
Tuesday October 29, 2002


When gunshots rang out in Jerrica Wesley's ears, she took off running from the CatTran shuttle stop near the Arizona Health Sciences Center.

She ran to class rather than waiting for the shuttle.

"I was hella scared," said Wesley, a biology freshman. "I have never been so close to gunfire before."

Wesley, a resident of Babcock Inn Residence Hall, 1717 E. Speedway Blvd., said she was too scared to return to her room later yesterday morning.

Wesley and others who live, work and attend class north of East Speedway Boulevard spent much of the day mourning the loss of three professors who were killed by a suicidal gunman yesterday morning. But on the main campus south of Speedway, the mood was more subdued as the news slowly permeated the UA.

At the "Swede" Johnson building and other areas north of East Speedway Boulevard, students and workers spent much of the day pooling together as they cried and exchanged information.

"Imagine being in a classroom and watching murder happening before your very eyes," President Pete Likins said at a press conference at the "Swede" Johnson building. "It's a powerfully disturbing experience."

After Likins' speech, a woman started bawling as cameras swarmed around her.

Elaine Jones, an associate professor of nursing, knew Cheryl McGaffic, the 44-year-old victim who was killed in the front of her classroom.

"You have this image of nurses being some of the most compassionate people in the world," Jones said. "Then one gets murdered in her own classroom. It doesn't make sense."

Jenni Behring, another Babcock resident and microbiology freshman, thought she was safer living away from the main campus, until today.

"I was sleeping and my roommate woke me up," Behring said. "I heard sirens and helicopters and something told me to come outside. It was completely unbelievable."

Meanwhile, across East Speedway Boulevard and disconnected from the shooting and panic around the College of Nursing, a group of students and faculty sat in the Modern Languages building watching the news unfold on television.

The center of campus was largely devoid of the chaos that marked the day north of East Speedway Boulevard. People walking around campus discussed fragments of the news but were unsure of the details.

Brett Verbist, a prospective UA student, was visiting the main campus yesterday with his family. He wouldn't have known anything had happened if the news of the shootings had not flashed across his dad's pager, Verbist said.

The people walking around on campus don't seem worried, Verbist said.

"I hate to say this, but we're kind of getting used to violence in this country," said Brett's mom, Irene Verbist.

Although bicycle and pedestrian traffic was lighter than usual, students packed every table for the lunch rush in the Student Union Memorial Center as usual.

English professor Fred Kiefer sat in front of his computer tucked away on the fourth floor of the Modern Languages building.

"Work keeps my mind off of thinking about the pain and the loss," Kiefer said. "Working at my computer helps to keep me going."

Some professors and students took a reflective attitude toward the incident, saying that they will feel less safe as they go about their daily lives.

Now that the shootings have taken place here at the UA, there is a feeling that we are all vulnerable, said linguistics professor Terry Langendoen.

"(The shootings) threaten our freedom to move about (campus)," Langendoen said. "These are not happy times."

Susie Bowers, a program coordinator for the College of Engineering and Mines, also felt vulnerable when she heard about the shootings.

"You don't think it's going to happen here," Bowers said. "It leaves me wondering how safe anybody is anywhere."

Ariana Delgado, family studies and human development freshman, still feels safe, but off balance.

"I couldn't see it happening again, but you never know," Delgado said. "It could just happen anywhere. That's the scary reality."

Ryan Gabrielson, Keren G. Raz, Devin Simmons and Kaila Wyman contributed to this report.