Community offers grief counseling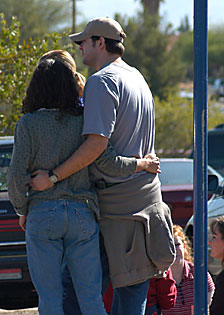 SAUL LOEB/Arizona Daily Wildcat

Two UA community members hold one another yesterday morning while waiting for information outside the College of Nursing.

By Brittany Manson
Arizona Daily Wildcat
Tuesday October 29, 2002


A myriad of counseling options are available to students and staff emotionally impacted by yesterday's campus shootings.

"It is important for people to talk to one another about the things that are going on in their lives," President Pete Likins said in a statement yesterday. Open up and talk; don't isolate yourself, and we will help each other get through this together."

Counseling for both students and staff is being offered at the "Swede" Johnson building on the corner of East Speedway Boulevard and North Cherry Avenue.
---
Counseling resources
Campus Resources

"Swede" Johnson Building
(begins at 9 a.m.) 621-9529
College of Pharmacy, Brewer room
(9 a.m. -4 p.m.) 621-5730
Counseling and Psychological Services
621-3334 / www.health.arizona.edu/counseling/counseling.htm
Staff from Department of Psychiatry
626-6254
Dean of Students Office
621-7059
Community Resources
Southern Arizona Crisis Line
(24-hour hotline) (800) 400-1001
Southern Arizona Mental Health Crisis Line
(24-hour hotline) 622-6000
Victim Witness
740-5525
Homicide Survivors
740-5729
Help on Call Crisis Line
323-9373
Compiled by the Dean of Students Office, Arizona Health Science Center, Human Resources and Campus Health
---
Employees who need counseling are encouraged to call the Human Resources office at 621-3662 and students needing to talk someone are encouraged to call the Dean of Students Office at 621-7057.
Several other organizations have lent their services to help the people affected by the attack.
Father Albert Felice-Pace, director of the Catholic Newman Center said the center has offered its services to the university.
He also said some nursing students came to the center to talk one-on-one with the clergy staff and the center will "hopefully have memorial services for (the victims)."
"The counseling services here are open to anyone who wants to talk," he said.
The Tucson chapter of the American Red Cross also encourages anyone affected by the shooting to call the Red Cross at 318-6740 for help.
The Hillel Center will be recognizing the victims in a Friday night Sabbath service, said Michelle Blumenberg, director of the Hillel Foundation.
Many students have come in for their regular classes and talked to the staff about how the shootings affected them, she said.
The center always has walk-in appointments where students can speak with a staff member on any subject, she said.
The Marriott University Park hotel at 880 E. Second St., is offering a free week of lodging for families of the victims.
Kevin Tracy, director of reservations is taking reservations, at 792-4100 ext. 1019.