Teacher showcases third-grade studies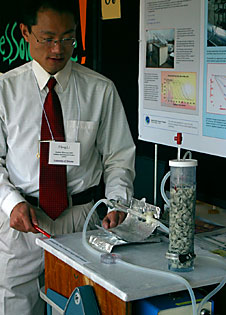 ALYSON GROVE/Arizona Daily Wildcat

Environmental engineering graduate student Heng Li presented information on harnessing solar power in the desert for human health protection during the graduate research fair on Friday outside the Main Library.

By Ryan Johnson
Arizona Daily Wildcat
Tuesday November 12, 2002


Undergrad wins top prize for integrated approach to education

A naval officer-turned elementary education major took home one of two top awards at the 10th annual student showcase of research projects Friday and Saturday.

Undergraduate Byron Bass' project, "An Integrated Hands on Approach to Learning," focused on tying together subject areas. While student-teaching a third-grade class, Bass, 52, had his class dig up artifacts buried in the playground. The class then drew bar graphs about what they found and wrote a fictional story about how the artifact ended up there.

"If I had had more time I would have had them make their own fossils out of clay," said Bass, a student seeking elementary-education certification.

The reason for all the activities, he said, is to help the students see the uses of subjects such as math, and to get students to draw the connections between different subjects as, Bass said, adults rarely do. With support from his daughter and grandkids, Bass decided to go back to school to find a more meaningful career after he retired from the Navy.

"I wanted to find something I enjoy doing," he said.

For his efforts, Bass won $750, $250 for winning his category, education, and $500 for getting the President's award. The showcase featured 82 exhibits from 11 different subject areas.

Judging was broken up into two categories, graduate and undergraduate. Awards were given for the best and second-place entries in different subject areas.

Bass' military pension helps get him through college, but others not on pensions welcomed the money that came with the prizes.

When asked what he would do with the prize money, graduate student Ryan Falsey joked that he would buy food.

Falsey and graduate student Kerri Kislin's project, which combined different treatment methods for brain cancer, won the other President's Award.

"You're always trying to get grants for your projects. There's a lot of depth to it," Kislin said.

The pair plans to use their money to travel to Toronto for another fair in search of more grant money.

Organizers said the fair, run by the Graduate and Professional Student saw between 2,000 and 3,000 visitors.

The two-day event culminated with Gary Pivo, dean of the graduate college, and Saundra Taylor, vice president of campus life, presenting awards to winning entries.

Most students said they took pride in their work and were thrilled to get the exposure.

"It's rewarding because I put a lot of hard work into my project," said Alice Levine, a senior in ecology and evolutionary biology and English.

Her project, which found that controlled burning of invasive grass in the forest can restore a grassland, won the undergraduate biology category.