Students, alumni turn out for reunion parade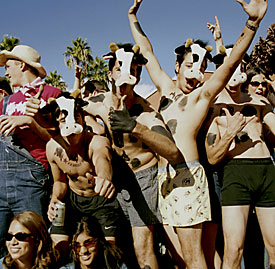 DEREKH FROUDE/Arizona Daily Wildcat

The members of Alpha Phi pump up the crowd from their float at UA's homecoming parade Saturday afternoon. The parade drew people from all ages before the football game.

By Sarah Nixon & Kaila Wyman
Arizona Daily Wildcat
Tuesday November 12, 2002


Sixty-six floats and cars holding waving students and alumni toured the UA Mall on Saturday in the 73rd Homecoming Parade.

The parade kicked off at North Cherry Street and East Second Street, heading south toward the Homecoming tents and tailgating area occupying the Mall.

Onlookers, including alumni, students and families, viewed the spectacle from shaded grassy areas, mobile homes and steps near Old Main.

"We try to make it every year. This year is my 20th year reunion," said Christina Barraza, an alumna, standing with her three children and husband. The family watched the parade from the front lawn of Flandrau Planetarium.

Some children stood inches from the street grabbing candy thrown from the floats, while others looked on from their parents' shoulders.

On the front of a car designed to look like a football helmet, Wilbur and Wilma Wildcat, along with the UA Cheerleaders and The Pride of Arizona marching band, led the parade.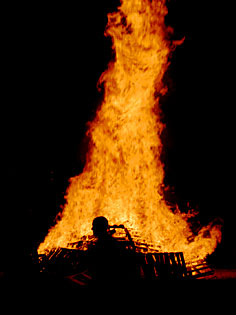 Kristin Elves/Arizona Daily Wildcat
After the Homecoming queen and king were crowned on the steps of Old Main Friday night, two firefighters lit a mound of wood to create a bonfire that blazed for more than an hour.
The Asian Pacific American Student Affairs float, complete with two sumo wrestlers fighting a scrawny UCLA bruin followed.
"My favorite float was the one with the sumo wrestlers," Barraza said.
UA sororities and fraternities teamed up to built about 20 floats.
Delta Gamma and Phi Gamma Delta assembled a float with a ten-foot-tall Wilbur grasping a leash tied around the neck of the UCLA Bruin.
A tractor accompanying the Agriculture House float preceded Gamma Phi Beta and Kappa Sigma's float consisting of two goal posts, a football filed and an oversized Wilbur running in for a touchdown.
Theta Tau, a UA engineering fraternity, constructed a float with a giant Wilma Wildcat, next to a clapping Wilbur.
The UCLA Bruin hung with a noose around its neck from the hood of a fire truck carrying the Sigma Nu fraternity.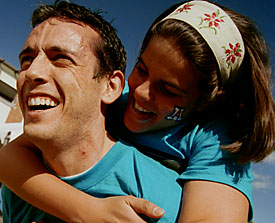 DEREKH FROUDE/Arizona Daily Wildcat
Mortar Board President Ben Gross, management and information systems and operating systems senior, gives fellow Mortar Board member Sam Zipp, psychology, entrepreneurship, and business management senior, a piggy back ride before the homecoming parade Saturday afternoon on the mall.
"Yee-ha, AGR rules," Jake Hughes, a member of the agriculture fraternity, excitedly said once the parade ended. He said Alpha Gamma Rho members had been working to build their float on and off for several weeks. UA alumni were represented in the parade by an alumni band, pom squad, cheer members and alumni football players.
The 1956 UA Homecoming Queen, Nancy Berge, was honored in a red Corvette. They were followed by the 2002 King and Queen ÷ king Andy Gulbis, a biochemistry, math and MCB senior, and queen Nita Umashankar, a double major in marketing and molecular and cellular biology.
The parade circled around Old Main and the Fountain, heading east toward North Campbell Avenue and coming to an end around 4:00 p.m.
The previous evening, about 200 students, faculty, staff and alumni gathered at Old Main to rally around the annual homecoming bonfire for Saturday's football game.
Bobcats Senior Honorary sponsored the event featuring pep talks by President Pete Likins and head coach John Mackovich.
During Likins' pep talk, the large pile of wood west of Old Main was lit on fire.
Students cheered in honor of the football team and showed their spirit to the alumni who were present.
Bobcats Senior Honorary crowned the Homecoming king and queen.
During the event, Melissa Davis, chair of Club Olympics, announced that Chain Gang Junior Honorary won the Club Olympics earlier in the day to receive $400.