Weekend highlights volunteerism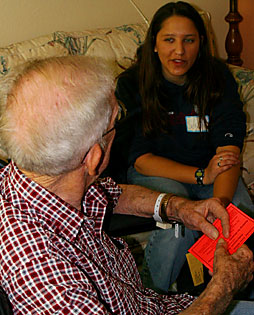 DAVID HARDEN/Arizona Daily Wildcat

Veterinary Sciences sophomore Sara Churgin speaks with James Mockbee for a service project at the Handmaker Center on Saturday.

By Nate Buchik
Arizona Daily Wildcat
Monday November 18, 2002


Nearly 600 UA students volunteered at 28 locations across Tucson on Saturday, pulling weeds, painting houses, dusting tables and talking to Alzheimer's patients, during the annual All-Campus Philanthropy Day.

Members from several clubs including Blue Chip National Honorary, Circle K International and Primus participated, while other students said they just came to give back to the community by volunteering at organizations like the Ronald McDonald House, Handmaker Jewish Services and the Boys and Girls Club.

The day started when volunteers met on campus at 9 a.m. to listen to keynote speaker Rev. Robin Hoover, president of the non-profit organization Humane Borders.

Students were then sent out on seven buses and 10 vans to volunteer sites.

Some students said they feel it is especially important that students volunteer because of UA's many ties with Tucson.

"It helps people to see how lucky we are that we can even be in college and get a better grasp at what's going on outside of the college world," said communications sophomore Allison Aven.

Even simple tasks that students did, like pulling weeds or dusting tables, made a difference to some organizations because it allowed the full-time workers of the non-profit organizations to do more important service, Project Volunteer director Greg Billings said.

"We're instilling to the students that service is service. It's all beneficial at a higher level," Billings said.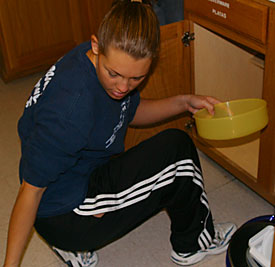 DAVID HARDEN/Arizona Daily Wildcat
Family Studies and Human Development sophomore Julie Naples helps clean out cupboards at the Ronald MacDonald House Saturday.
Students worked at their sites for around three hours before returning to campus for a free celebration with 800 slices of pizza, 1,600 sodas, 650 All-Campus Philanthropy Day T-shirts and one disc jockey.
Twenty-five percent of the costs for the day were covered by donations the Food Bank and other local organization and the other 75 percent was paid for by UAB.
When they returned from sites, many students said they expected to return next year.
Pre-education freshman Herman Lee remembered his experience at Saguaro National Monument.
"We hiked through the desert all the way up a mountain to pull non-indigenous buffalo grass. In other words, we pulled weeds. It was kind of hard work, but it was fun," Lee said.
Billings said that, as their keynote speaker noted, students learned a lot about themselves during the day.
"Coming back, hearing some of the reactions, going into it they were kind of skeptical · but it was a definite learning experience," Billings said.
Project Volunteer, a subdivision of the University Activities Board, coordinated the events, aligned students with service projects and transported them to sites where organizations could use volunteers for a day.
The members of Project Volunteer, which is a subdivision of UAB, were more aggressive this year in attracting students and student groups to participate ÷ recruiting more than 1,100 students to volunteer for the 15th-annual event.
While only 600 of the 1100 participated, Billings said this was expected.
"It's actually not disappointing. It was the same situation last year. Five hundred signed up and only around 250 showed up. Luckily, we had so many volunteers originally signed up, so we still had a great turnout."