Likins to Mackovic: Work constructively, be humble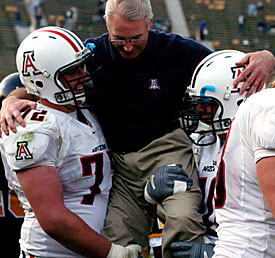 KEVIN KLAUS/Arizona Daily Wildcat

Head football coach John Mackovic is elevated by players Tanner Bell, left, and John Parada after the team's 52-41 win over Cal on Saturday. The win came after Mackovic's mid-week pledge to improve his relationship with the team.

By Jose Ceja
Arizona Daily Wildcat
Monday November 18, 2002


Head football coach John Mackovic will be given a chance to redeem himself, but will have to abide by the "values" of college coaching to the satisfaction of President Pete Likins and athletics director Jim Livengood, Likins said in a statement Friday.

Likins, who met with 41 UA football players last week to discuss concerns about the coach, called on Mackovic to "practice humility in his relationships with others, and work constructively to open all lines of communication."

On Wednesday, Mackovic apologized for his conduct and said he failed to live up to his "own standards." Mackovic said much of the dissatisfaction with his behavior stemmed from comments made after a loss to Wisconsin in September.

"I allowed my emotions to get the best of me," Mackovic said during the press conference.

In the statement, Likins said that while athletic competition places great stress on players and coaches, "abusive or chronically disrespectful behavior of student athletes is totally unacceptable behavior from a college coach."

Mackovic, who Likins credited for swallowing his pride and apologizing for his behavior, understands the importance of "a positive developmental experience for student athletes," but had to be confronted by a contingent of players and Livengood before recognizing his behavioral problems, Likins said.

Likins outlined the special responsibilities that all mentors, not just athletic coaches, are endowed with, but said that coaches have a particular capacity to "influence personal development."

Likins also called on the UA community to learn from Mackovic's mistakes and show Mackovic, who is in his second year of a five-year contract, the compassion and forgiveness he needs to be successful a coach.

"Let us join together in a sincere effort to restore both the performance and the pride of Wildcat football," Likins said.

Media speculated that Mackovic, who at $800,000 a year is the highest paid college coach in Arizona, would resign during Wednesday's press conference.

If Mackovic is forced to resign this year, the UA would have to pay him $1.2 million and $400,000 for each year remaining of his contract.

The Wildcats, 4-7 overall, broke their six-game losing streak Saturday with a 52-41 win over Cal in Berkeley, California.

Before Saturday's win, the Wildcat were 0-6 in the Pac-10 conference for the first time in their 25-year history in the league.