On the Spot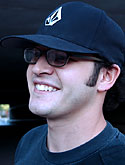 Ryan Sohm
agricultural resource economics graduate student

By Rebekah Jampole
Arizona Daily Wildcat
Monday November 18, 2002


Agricultural resource graduate student talks about cow-tipping, naked snowboarding and porn

WILDCAT: That is a very interesting major. What are you going to do?

SOHM: We'll find out.

WILDCAT: Have you ever gone cow-tipping?

SOHM: Yes.

WILDCAT: Are you a big fan?

SOHM: Good times.

WILDCAT: Now, Ryan, is that really agriculturally correct?

SOHM: I would say sure.

WILDCAT: Something we should all partake in for the environment?

SOHM: Definitely.

WILDCAT: I imagine the force of the cow falling may help with the soil in some way. Yeah, maybe not. Sometimes I make things up to sound intelligent. Obviously it didn't work this time. And on that note, where are you from?

SOHM: Flagstaff.

WILDCAT: So, you must like the snow.

SOHM: I like it, yeah.

WILDCAT: Have you ever gone skiing in your skivvies?

SOHM: No, but I've been snowboarding naked.

WILDCAT: Are you kidding me? You know you don't have to make things up just to make this a more exciting column. Would you ever do it again?

SOHM: Maybe.

WILDCAT: So you just woke up one morning, rolled out of bed and thought, "Who needs clothes when it's cold enough to get my tongue stuck to a metal pole?"

SOHM: It's quick and easy. Some nice times streaking.

WILDCAT: On the other end of the temperature scale, if you were stuck on a desert island with any movie star and, again, clothes weren't a necessity, who would it be?

SOHM: I'd have to say Jenna Jameson, although she's an adult movie star.

WILDCAT: I imagine the conversations on that island would be terribly intelligent.

SOHM: Entertaining, at least.