War correspondent will be ╬going it alone'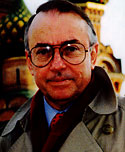 Photo courtesy of ABC

Richard Threlkeld, a vetern broadcaster, will speak on U.S. foreign policy in the Main Library Monday.

By Biz Bledsoe
Arizona Daily Wildcat
Thursday November 21, 2002


Richard Threlkeld has seen it all. Well, if you're talking about U.S. conflicts in the past 30 years, he has. Reporting live from conflicts ranging from the Gulf War to the Vietnam, Threlkeld has been the correspondent to risk his life and bring home the news. And now that he's retired, he's bringing the UA his opinion.

As a veteran broadcast journalist, Threlkeld will speak on U.S. foreign policy Monday night in the Special Collections area of the Main Library. The event, sponsored by the Friends of the University of Arizona Libraries, is titled "9/11 to 11/5: From Terror to Today." It features Threlkeld, a retired correspondent for both ABC and CBS who has covered U.S. news and conflict since 1966.

He has filled many roles as a journalist, including CBS News correspondent, anchor and bureau chief; ABC News reporter; regular contributor to "CBS Evening News with Dan Rather" as well as "Sunday Morning;" and CBS News' Moscow correspondent. Until his retirement in 1999, Threlkeld made living on the front lines of war a lifestyle, covering U.S. conflicts like the Persian Gulf and Vietnam Wars. Among other feats, Threlkeld was one of the first journalists to report live from the Iraq-Kuwait front in 1990, and was one of the last to be evacuated from Phnom Penh and Saigon in 1975. He also reported on the fall of communism in Eastern Europe in 1989 and was a correspondent in Moscow in 1990 during the Bolshevik Revolution.

As if all that weren't enough, Threlkeld has also written a book, published in 2001, about his experiences as CBS's Moscow correspondent from 1996-1998, called "Dispatches from the Former Evil Empire." To boot, he's married to CNN correspondent Betsy Aaron. The two live most of the year in Tucson.

Monday night's event will feature Threlkeld's take on U.S. foreign policy, the effects of which Threlkeld has seen firsthand in his more than 30 years as an overseas journalist. His specific area of concern is that of the new administration's policy regarding the rest of the world, which Threlkeld refers to as "the doctrine of American imperialism," or "going it alone."

"There's a sense, I think, that in Washington that since we're the big kid on the block, we can do whatever we want and the rest of the world has to knuckle down and just acquiesce," Threlkeld said. "I think that's just a dangerous approach."

Threlkeld cites examples such as the United States' refusal to sign the Kyoto Protocol, which mandated that industrialized countries cut carbon dioxide emissions; and the administration's decline to ratify the International Criminal Court's Rome statute, to support his theory about the United States' emerging imperialism.

"This doctrine of American imperialism really goes back to the first Bush administration back in the late '80s," Threlkeld said. "It involves America's unilateral action Ě in terms of taking military action whenever it wishes, without consultation with allies, in defense of American interests."

This lack of consultation with allies is part of what Threlkeld terms "going it alone." One of his concerns about going it alone is the similarity between today's foreign policies and those of the past that proved unwise.

"(Today's foreign policy) involves pre-emptive strikes Ě I would remind you that Pearl Harbor was a pre-emptive attack," Threlkeld said. "It was a policy that was out of favor during the Clinton years, and has now been sort of warmed over and spruced up and has become the central doctrine, in my view, in the Bush administration."

According to Threlkeld, the effects of such policies are generally not worth the cost of enacting them.

"The problem with going it alone is that Ě there's a terrible price to pay. The price to pay in going alone, in being the big kid on the block, is that you still need to get along with your neighbors," Threlkeld said. "In order to achieve things in this world, you still need to talk to people to bargain with people, to make compromises. If you don't, you're paying a terrible price."

One of those costs is the decline of the U.S.'s reputation in the world community.

"I do not remember a single incidence in my memory, at least since Vietnam, when the United States was more feared, more distrusted, around the world, not only among our Ě enemies, but among our friends ¸ among our erstwhile allies."

The Friends of the University of Arizona Libraries is a group made up of UA students and faculty, along with prominent community members, that raises money for the university library and helps the library to acquire books that it could otherwise not afford. Every semester, the Friends organization invites at least four speakers to lend their thoughts on a variety of subjects. Threlkeld is one of six speakers this semester.

"What we hope to accomplish is to publicize the Friends organization," said Samuel Huang, the assistant dean for external relations and a faculty liaison to the Friends of the UA Libraries. "The Friends organization is a critical, important support of the university library.

"It's very hard for students to hear a good speaker like this," Huang said. "This is a good way to expose our students to the community."

Since his retirement, Threlkeld has spent time speaking around Tucson. One thing his experiences as a broadcast journalist and war correspondent have afforded him is a clear perspective on war.

"I'm very suspicious of wars," Threlkeld said. "Wars are very messy, always messy. They're always unpredictable, and (they) very often cause other problems which are not very well-perceived beforehand. It's like taking a jigsaw puzzle and mixing all the pieces up; you're not going to be able to put it back together the same way."

This will be Threlkeld's first event with the UA, and he has high hopes for the occasion.

"I hope to keep the audience awake, to keep the audience interested, to make some of them so excited and angry at me that it will stimulate a good discussion."