$3 Rec Center fee funds equipment, clubs, raises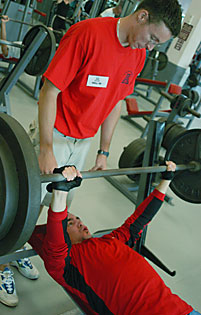 DEREKH FROUDE/Arizona Daily Wildcat

Student Recreation Center employee Mike Mclain assists finance alumni Zach Johnson with his bench press yesterday afternoon. The center charged an extra $3 this semester.

By James Kelley
Arizona Daily Wildcat
Wednesday September 4, 2002


Students appear to be supporting the new fee, as none have yet applied for their possible refund

This fall, the Department of Campus Recreation ordered a full line of new fitness equipment, gave student employees a raise and gave $30,000 to sports clubs with money from a new $3 per student fee.

Although the fee ö which was passed by a 1,894 to 922 margin last March in the ASUA election and approved by the Arizona Board of Regents in the end of April ö is refundable, no one has requested their fee be waived so far this year.

Two students took requests to get the refund, but they never came back to turn the forms in, said Juliette Moore, director of the Campus Recreation department.

The newly ordered fitness equipment purchased with the extra funds is scheduled to arrive in mid-October. It will add life to the center's aging equipment. About 65 percent of the equipment at the Student Recreation Center, 1400 E. 6th St., is more than 10 years old, Moore said last semester.

With the money, the department also bought new furniture for the pool area.

"A lot of people like it. It creates a nice atmosphere at the pool," said Jacinto Espinoza Jr., facilities supervisor and student employee. "A lot more people are laying out," he said.

In the future, campus recreation is looking into adding things for intramural sports like scoreboards, a new van for Outdoor Adventures and backstops at Rincon Vista, 501 S. Plumer Ave.

"Students will continue to see results. They can see where money goes," Moore said.

The new fee generates about $107,000 per semester, without taking into account possible deductions for refunds, according to figures based on enrollment in fall 2001.

The fee was added this year on top of the $25 per-semester Recreation Center Bond fee, which students voted for in 1985.

That fee paid for construction of the center. Students will be paying the $25 fee until 2011 when the initiative expires.

Moore estimates the raise for starting salaries of student employees ÷ up ten cents per hour ÷ and increased pay for long-term employees, is already helping with retention.

The annual incentive pay, given to students who have worked at the Rec Center for one year or more went up a quarter per hour and went into effect last week.

The department has had trouble with losing students to higher paying jobs in the past.

"With retaining employees, it is helping a lot," Espinoza said. "More people here want to stay, there is more incentive," he said.

The Rec Center, the second-most-used campus resource, behind the library, services close to 4,000 students a day, totaling 700,000 people last academic year, Moore said.

Because of new fee revenues campus recreation is enjoying this year, the $15,000 that student government, Associated Students of the University of Arizona, previously gave annually to the department for sports clubs will go to other clubs.

"It is being used to offset budget cuts," said Jennifer Reece, ASUA executive vice president, who oversees UA clubs and organizations. "We are able to keep club funding the same as last year. It was a wash," she said.

Students interested in trying to get their $3 back must pick up a form at the Rec Center's business office or at http://campusrec.arizona.edu, return it and have their case approved by a committee.

"I don't see it happening, but if it does it would be a very small percentage," Espinoza said.

A new form must be filled out each semester.

To waive the fee for this semester, the request must be turned in by May 19.