Cirque: Neil Goldberg returns to Tucson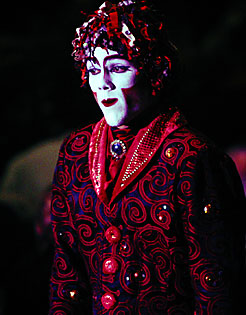 DAVID HARDEN/Arizona Daily Wildcat

By Lindsay Utz
Arizona Daily Wildcat
Thursday December 5, 2002


The circus tent is empty, the human dreaming pallette bare, sound absent. Where has everything gone?

Well, the acrobatic people and the jugglers and the rest of the circus, minus the animals, have gathered up their fire and rope and other toys, escaped the tent and climbed onto the stage. Upon that same stage you'll find the wild imaginings and potent music you thought would be the scenery and soundtrack for your most bizarre dream.

And it gets even stranger when you discover that no, this is not a dream. It is all so very real. Welcome, ladies and gentlemen, to "Cirque", the most exhilarating theater experience you'll probably ever sit through, a show that reminds you not only of the glorious originality, but the often insane nature of human beings.

Neil Goldberg's Cirque is most often described as European-style circus artistry with a Broadway-esque flair and Las Vegas flash. Many variations of circus artistry have been created over the past century or so since it's 1874 birth in France, but nothing with such bigger-and-better American sass and attitude as this one.

As circus-like as it appears, Goldberg claims it isn't like the circus at all.

"It's just a blending of all genres of performance artistry," he said. "The opportunity that we have in creating these type of shows is that any artist, any performer, actor, singer, dancer, musician, acrobat, gymnast, whatever their skill is, we can look at it with an open mind because it gives us an opportunity to involve so many different styles of performance artistry into one cohesive ensemble piece."

OK, so it's about performance art, but it sure does look and sound like the circus. In fact, Neil Goldberg's creation of this show probably comes from some undying urge he's always had to run away with the circus.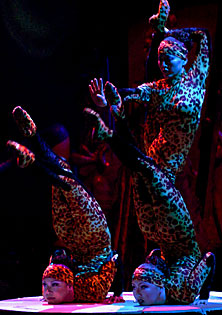 DAVID HARDEN/Arizona Daily Wildcat
Contortionists bend their bodies in un-imaginable ways Tuesday night at Neil Goldberg's "Cirque" now playing in Centennial Hall.
"No, I never wanted to run away with the circus when I was a kid," he maintained. "As a mattter of fact, I hated the circus."
Goldberg grew up in New York City, always around theater, always around Broadway. And although inspiration from the show is taken from the famous Cirque du Soleil, his version has more Broadway theatrics.
The show starts before the lights even go down. A wide-eyed jester and eerie clown wander the aisles, looking for audience members to embarrass on stage. A big part of the show involves goofy audience participation, and, although adults try to avoid eye contact for fear of being a chosen victim, their cheering children give them that little push of guilt and courage to let loose and be a kid again, if just for a moment.
With a show like "Cirque," that is exactly what happens; you experience something intoxicating and youthful. You find yourself jaw-dropped, hand cupped over mouth, gasped and giggling like a kid again.
"I was trying to create this Disney-like theme park, forget your troubles, come on get happy two-and-a-half-hour experience," Goldberg said. "I wanted to take people to a place that was so filled with imagination and color that you sort of were having an out of body experience, so to speak. You just sort of forgot where you were. And I think that's what we've accomplished."
Whether you like really loud and colorful in-your-face theatrics, or you think they're just plain obnoxious, you have no choice but to surrender to this over-stimulating pumping fantasy of a show.
Watching women intertwine themselves with other women into a beautiful arrangement of body reminds the viewers that with some thought and grace, and proper oiling, the human form is a hard-working machine and nearly perfect work of art.
In addition to the pretzel women, there are people flying around stage, dancing mid-air on a rope, men standing stacked atop one another, and further amazing acts of balance, strength and concentration.
"This is definitely a show for all ages," said Heather Hoffman, publicist for "Cirque." "We had one news program that interviewed people as they came out, and a gentleman holding a child said ╬he's 4, I'm 44 and we were both on the edge of our seats for the entire show.'"
"I think it's great. I came last year and I really liked it. I thought to come again this year," said Lupita Doyle, who drove an hour from Nogales to see the show.
"It's totally tripped-out," said Natasha Gibson, a college student who wandered into the theater on Tuesday night. "I couldn't help but have an acid flash-back. Everything was sort of melting into one another. There were two giant pink wafer things that came out on stage and bowed and ducked and winked at me and then they exited the stage. I mean, what the hell is that supposed to mean?"
Costumes such as these pink wafer people trotting along stage were an integral part of the overall creepy, intriguing mood of the show.
The music is also a very important element to the show's ambience. Sometimes, it's light and airy, sometimes jazzy, but mostly dark and even haunting ¸ a sound that lends well to the absorbing visual spectacles.
By far, the most interesting aspect of this show is that the performers come from all parts of the world. Goldberg spent 6 years traveling Europe and scouting talent. He created relationships with various variety arts and circus colleges throughout Russia and eastern block countries, associations with the Bejing acrobatic association, the Mongolian school of contortion, and the Polish acrobatic association.
"I planted a lot of seeds in those 6 years and racked up a lot of frequent flyer miles, and now those relationships continue on a regular basis," Goldberg said.
A man recently came over from Russia and he'll work and train with Goldberg's team for about 8 months to a year before he gets put into the show.
Two Mongolian sisters that are in the show now recently won the game show, "30 Seconds to Fame," for their contortion act.
"Cirque's" popularity continues to grow. Goldberg is currently organizing a South American tour of the show. Yet the ultimate goal in the world of theater is to someday, no matter what it takes, make it to Broadway.
"I always have hopes for Broadway. It'll probably be written on my tombstone," Goldberg laughed.
What's happening at Centennial Hall this weekend isn't about theater as you know it. This is wild and weird and stunning all at the same time.
As Hoffman explained, "Description doesn't do it justice."