Getting to know Piebald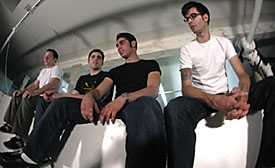 Photo courtesy of Piebald

Piebald will come to the Rialto Theatre, 318 E. Congress St. this Saturday night.

By Adam Pugh
Arizona Daily Wildcat
Thursday December 5, 2002


Piebald is not just another band. They are the fun feeling that you get when you hear a new song on the radio and it rubs you just the right way. Piebald is full of pop music and strange lyrics that will leave you dancing and guessing at the same time.

I was able to speak with Piebald's lead singer and guitarist, Travis Shettel, who recently had throat surgery. The band has now regrouped and is embarking on a new tour that will bring them to Tucson on Saturday at the Rialto Theatre, 318 E. Congress St.

WILDCAT: What are you guys doing right now?

SHETTEL: We are actually just getting ready for tour and trying to write new songs and all that kind of stuff.

WILDCAT: Are you guys pretty excited about this tour?

SHETTEL: Yeah, very excited. We can't wait to be playing shows again.

WILDCAT: When is the last time you guys played a show?

SHETTEL: It hasn't been since August, but we did play a show last week with Andrew W.K. New Found Glory also played, but Andrew W.K. is cooler. He was great. He put on a great show. I watched him dance around and shove the mic into his pants when he played the piano.

WILDCAT: When did you find out about the throat problems you were having?

SHETTEL: My singing voice and my speaking voice got a whole lot worse. And it got to the point where playing a show was very difficult for me to hit notes, and I knew something was wrong. So I went to the doctor, and I was right that something was wrong.

WILDCAT: What did you do when he told you that?

SHETTEL: He told me I needed surgery immediately, so we canceled two weeks of a tour and then took a lot of time off.

WILDCAT: What would have happened if you had not caught the problem?

SHETTEL: I probably would have gone on touring and my voice would eventually have sounded like nothing ÷ it would have been really bad. It would just kind of cut out sometimes, and be really raspy. Now it is a lot better and, hopefully, I can keep it that way, cross my fingers and knock on · plastic.

WILDCAT: What has been your favorite place to play?

SHETTEL: A mid-size club is our favorite place to play, because it sounds great when you are onstage, and you have more interaction with the audience.

WILDCAT: What are you doing with the new songs you are working on?

SHETTEL: When we finish the tour on the East Coast, we have a few days off for Christmas, so we will get to record our new songs and see what kind of interest we can create in the band.

WILDCAT: Do you think your latest album is a big departure from your last?

SHETTEL: I think it is the best thing we have ever done. I think the songs are the best we have ever written and I think they were recorded better than any other Piebald songs before.

WILDCAT: What is something you are sick of in the world of music right now?

SHETTEL: Nu metal is tiring. It needs to be over.

WILDCAT: Who would you like to see wiped off the face of the planet?

SHETTEL: I would be happier if Disturbed stopped playing. They could not play any more shows any more and I would be happy. If they are happy making what they are making and people are made happy by it then I can't really judge it. We think their crap is crap, and they probably think our crap is crap.

WILDCAT: What is the best part about being in this band?

SHETTEL: That I am in it with my friends and we write music that I like.

WILDCAT: What do you want for Christmas?

SHETTEL: What I want for Christmas is a Brita Water Filter. And my mom is going to give it to me and I am excited about it. And I will tell you why: It's because we need clean water because our water tastes like brass.