Game Preview: Wildcats to see familiar faces during Calif. trip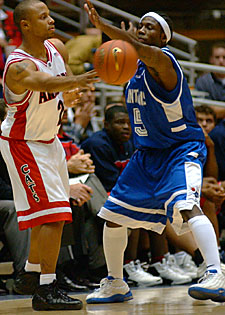 CHRIS CODUTO/Arizona Daily Wildcat

Saturday at 7pm Gardner and the Wildcats take on San Diego State University.

By Maxx Wolfson
Arizona Daily Wildcat
Friday December 6, 2002


When the best basketball player in your program's history decides to not even play the sport anymore, it says something about your basketball team.

At least that player will be a Hall of Famer in another sport.

Future Hall of Fame baseball player Tony Gwynn still holds the San Diego State record for most career assists, but he passed up a chance to play with the Los Angeles Clippers as a 10th-round draft pick to play with the San Diego Padres.

Good choice.

Now the head coach of the SDSU baseball team, Gwynn's former team will host the Arizona Wildcats, the nation's No.1 basketball team tomorrow night, in the first-ever sellout in the six-year-old Cox Arena at 7 MST.

"We're going to put it on them," said freshman guard Hassan Adams, who will play in his first game back in California since becoming a Wildcat. "We're going to play a lot better (than we did against Saint Louis)."

Adams won't be the only California native playing in the Wildcats' first road game of the season, as four Arizona players call the Golden State home ÷ the most from any state.

The most notable UA player coming home is senior forward Luke Walton, who was born and raised in San Diego and played at University High School.

"I'm looking forward to going home," he said. "I have my brother there and my family there.

"I don't think I will be nervous as long as I don't shoot like I did tonight," said Walton, referring to his 0-of-5 performance in the 33-point win against Saint Louis.

As the Wildcats (3-0) have cruised in their three games, the Aztecs (2-2) have had a tougher time.

In the third season under former Michigan coach Steve Fisher, the Aztec faithful are expecting results as the expectations are rising.

"I think he will see success there because he's a very good recruiter and he works hard at his job," said head coach Lute Olson, who said he considers Fisher a friend.

"It's always going to be tough to recruit against Pac-10 schools. I think he's a very good choice for them."

Fisher relies on his backcourt, which has a freshman and a senior transfer, to carry his team. Both senior Tony Bland and freshman Steve Sir scored 18 points in the Aztecs' 87-57 win against UC San Diego on Saturday.

"I think we have to come in and be confident and not let one mistake lead to four of five," Sir told reporters. "If we do, then we're in trouble. But I think we're smart and can stay composed and we should do fine."

SDSU, currently riding a two-game winning streak, averages 77.0 points per game, shoots 42.4 percent from the floor and posts a plus-7.0 rebound margin.

However, the difference tomorrow might come down to the depth of the Wildcats, as Olson played nine players 17 minutes or more against SLU. SDSU, on the other hand, relies on four players to carry the load, and they average 30 minutes or more. The way UA presses full-court could end up wearing the Aztecs down.

"I do know that they force the tempo and the issue," said Fisher at his weekly press conference.

"They're going to put pressure on you for 94 feet, as often as they can to cause you not so much to turn it over, but to shoot it quickly. That's what they want you to do."
---
Two Aztecs who have some ties to the UA program will not be in action tomorrow night because they are redshirting. Former Arizona shooting guard Travis Hanour, who left the Wildcat program last season, has to sit out the year. Also, Walton's younger brother Chris, who is a junior this season, has decided that it would be best for him to redshirt · It is the Wildcats' first appearance in San Diego since Dec. 4, 1986 · Olson is 4-1 all-time against the Aztecs.