Cats win tourney opener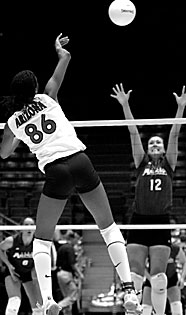 CHRIS CODUTO/Arizona Daily Wildcat

Freshman Kim Glass tallies one of her school record 28 kills in the Wildcats' 3-0 sweep against University of Texas Arlington last night.

By Brian Penso
Arizona Daily Wildcat
Friday December 6, 2002


From the minute freshman Kim Glass signed her letter of intent to come to Arizona, she knew that she would have a chance to lead the Wildcats to a national championship.

The first step toward Arizona's first national championship began last night against Texas-Arlington (26-7) ,and Glass played a huge part.

Glass led the Wildcats to a 3-0 (30-22, 30-26, 30-20) sweep of the Mavericks.

UTA entered the match as a heavy underdog and its lack of size and athleticism made it hard to compete with Arizona (18-11).

With a lack of size at the net, Glass was able to pick and choose where she wanted to terminate the ball, and that led to her career night and an Arizona kill record for a three-game match with 28.

Glass's kill total was impressive, but not as impressive as her match-high .558 hitting percentage.

"They were a lot smaller," Glass said. "It made it really easy to hit over them. I was happy with my play offensively, but I am not happy with the way I played defensively. It was not my night on defense and I have to make up for it tomorrow night."

UTA head coach Janine Smith said Glass' performance caused the Mavericks to play a different style of volleyball than they are accustomed to.

"Kim Glass was incredible," Smith said. "She is a great player. Her play threw us off our passing game and Arizona capitalized on that. They are a great team."

As a team, Arizona was too much for the Mavericks at the net as the Wildcats out-blocked UTA 7.5 to 0.

Glass dominated on the outside and fellow freshman Bre Ladd was unstoppable in the middle.

Ladd finished the match with nine kills, but she hit .529 to complement Glass's dominance on the outside.

"Bre had an outstanding match," Rubio said. "She has been struggling the last few matches offensively and we have been really working hard with her in practice."

Arizona dominated the match, but they did not play a perfect match. Rubio said that happens when you play against a weaker opponent.

"You raise your level to the level needed," Rubio said. "They were a scrappy opponent, but physically could not match up with us."

That will all change this evening as Arizona tries to reach its fourth consecutive Sweet 16 as it plays host to Texas.

Texas defeated Indiana in a thrilling five-game match to advance to the round of 32 and a chance at playing the Wildcats.

Rubio realizes that Arizona will be challenged and expects the match to be a dogfight from beginning to end with the Longhorns.

"We will be challenged tomorrow," Rubio said. "We are both young teams and Texas matches up with us. This match is going to be close and it could go either way."

First serve is set to begin at 7 in McKale Center.