Heading Home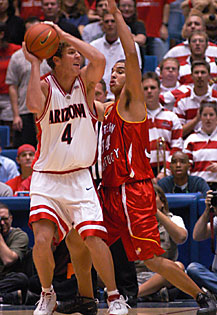 KEVIN KLAUS/Arizona Daily Wildcat

Senior Luke Walton will return home tonight to play in front of a familiar setting as the Wildcats take on SDSU on Saturday night.

By Brian Penso
Arizona Daily Wildcat
Friday December 6, 2002


Luke Walton returns to his hometown of San Diego this weekend to visit friends and family and face the team he grew up watching

Long before Luke Walton perfected his spin move to the baseline and patented fall-away jump shot, he was watching San Diego State basketball games from the bleachers of Peterson Gym.

Walton's opportunity arose during his senior season in high school, when he was offered a scholarship to play at SDSU. Playing in front of his friends and family was a signature away.

However, Walton realized that the Aztecs weren't going to be as competitive as a certain team based out of Tucson, and he could not pass on an opportunity to become a Wildcat and compete for a national championship.
---
The Walton Files
· Luke Walton led San Diego's University High to a 1999 state championship.
· Luke's brother Chris plays for the Aztecs, but is redshirting this season.
· Luke's father Bill will call the game for ESPN.
---
Walton made his decision and he has not looked back.
The senior All-America candidate still holds San Diego deep in his heart, but he is looking forward to going home and playing against the team he grew up watching.
"It's my hometown," Walton said. "I have got all the pride in the world for San Diego. I want to play a good game in front of everybody."
Besides being a homecoming for Walton, this marks the first time in his life that he will have a chance to play against his younger brother, Chris Walton.
Chris Walton is redshirting this season, but Luke Walton said that having Chris on the opposing bench will add to the fire and emotion of the game.
"I am happy for Luke," Chris Walton said. "It is good that gets to come home and play in front of his friends and family."
Luke Walton said that he is expecting up to 50 friends and family to be in the stands when he takes to the court.
The question is, which Walton will they be rooting for?
"My roommate from last year is getting 40 tickets," Luke Walton said. "I have 20 or 25 cousins that bought tickets. They better be rooting for me, if they're smart."
With all of the pressures of playing for the top team in the country, Luke Walton is not concerned about the added hype of playing at home with his brother watching from the opposing bench.
When the game begins, Luke Walton said that he will be solely focused on playing Arizona basketball and coming away with a victory.
Besides going home and having an opportunity to play against his brother's team at the school he grew up rooting for, his father Bill Walton will be announcing the game on ESPN.
Bill Walton has done Arizona games in the past and he has been critical of his son's play at times, and that has caused Luke Walton to never listen to his father's broadcast tapes.
"It is not going to happen," Luke Walton said. "Maybe down the road. I heard he talks a lot of trash, and that he gets on my case. If I want to hear that I can call him on the phone."
Luke Walton is also traveling home to the city that remembers him leading University High School to the California State Championship in 1999.
"Winning state is still right up there with everything I have done," Walton said. "It's pretty much like winning a national championship. We were just he second team in San Diego history to do that. It was really special."
Everything has come full circle for Luke Walton. What started in sunny San Diego has been fine tuned in Tucson. Luke Walton still has pride for San Diego, but it isn't likely that the SDSU fans will show him the same appreciation they showed him in high school.