On the Spot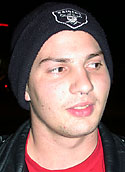 Patrick Bigger
regional development sophomore

By Rebekah Jampole
Arizona Daily Wildcat
Tuesday December 10, 2002


Free tuition, beer, long johns with the flap in the tush all say ╬holidays' to sophomore

WILDCAT: Are you excited that the semester is almost over?

BIGGER: Hell, yes.

WILDCAT: What are you going to do for the holidays?

BIGGER: Probably go home.

WILDCAT: Are you hoping that a fat man in a suit comes down your chimney and brings you presents?

BIGGER: Damn straight.

WILDCAT: What do you want him to bring you this year?

BIGGER: How about tuition?

WILDCAT: Indeed. I heard that he has hired little elves who take care of that.

BIGGER: Me, too.

WILDCAT: Those elves crack me up. So, really, you're just going to hang out with your family?

BIGGER: Yeah, and probably drink a lot of beer.

WILDCAT: Nothing like Christmas beer. Know what would be funny? Drinking Christmas beer with the elves.

BIGGER: Drunken elves and drunken family ¸ even funnier.

WILDCAT: It's a little chilly outside. Do you like the cold?

BIGGER: I don't care either way.

WILDCAT: I prefer the heat. I hate having to put layers on in the winter; then you look all roly-poly.

BIGGER: But layers are efficient.

WILDCAT: They are very efficient. Do you wear thermal underwear?

BIGGER: I do.

WILDCAT: Are you wearing them now?

BIGGER: No.

WILDCAT: Have you ever worn the ones that have the opening in the tush? You know, it's like a little flap.

BIGGER: You know, those are actually hard to find. You'd be shocked.

WILDCAT: I am shocked. Those are so cool; they should most definitely make them more accessible. They'd be very convenient if you had to go number two.

BIGGER: No arguments here.