Rutledge sets UA record for career starts in tourney win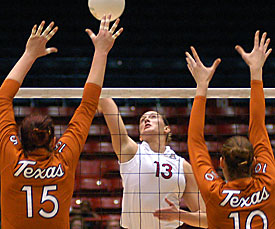 SAUL LOEB/Arizona Daily Wildcat

Senior Lisa Rutledge is five digs away from becoming only the fourth player in Arizona history to record 1,000 digs and 1,000 kills in a career. Rutledge has already set the Arizona career record for starts.

By Brian Penso
Arizona Daily Wildcat
Tuesday December 10, 2002


With her start in the Arizona women's volleyball first-round match of the NCAA tournament against Texas-Arlington, senior Lisa Rutledge became the all-time leader in career starts for the Wildcats.

Rutledge passed former All-American Dana Burkholder with 119 starts in her four-year career.

Rutledge's efforts this season have been overshadowed by the stellar freshman campaign of All-American candidate Kim Glass.

However, Rutledge's importance to UA's success has been unquestionable over the past four seasons.

"I don't think Lisa's importance will be realized until she isn't on the team," head coach David Rubio said.

"She has been a four year starter for us and her ability has been invaluable to this team."

Rutledge is currently becoming one of the most productive players in UA history, as she is third all-time with 1,450 career kills.

The Vista, California native is also only five digs away from becoming only the fourth player in Arizona history to finish her career with at least 1,000 kills and 1,000 digs.

In the postseason, her numbers have been even more impressive as she has tallied 142 kills in 14 postseason matches ÷ both UA records.

"I have been a player that the team can turn to when they are in trouble," Rutledge said.

"I want to be known as a consistent player that played hard all of the time."
---
Eight Pacific 10 Conference teams ÷ USC, Stanford, Arizona State, UCLA, Washington State, Washington, California and UA ÷ qualified for the NCAA tournament.
With eight teams in the field of 64, the Pac-10 tied the Big Ten for the most teams in the postseason, and its success in the first two rounds showed that it's the strongest volleyball conference in the country.
"I think everybody knew all season that the Pac-10 was the best conference," Rutledge said.
"It's not surprising that (the conference) won their matches. This is a chance to show everyone that the Pac-10 is the strongest conference."
All eight teams won their first-round matches and Stanford, USC, Arizona and Washington State advanced to the Sweet 16.
The Pac-10 represents 25 percent of the remaining teams in the NCAA Tournament, which is not a surprise to Rubio.
"I think all the coaches aren't surprised that all eight Pac-10 teams won their matches," he said.
"The Pac-10 is so competitive and the success of the conference is showing in the tournament."
---
Senior setter Laurie Gardner is the only member of the Wildcats to have played Thursday's Sweet 16 opponent Minnesota during her career.
Gardner, a transfer from Indiana, faced the Golden Gophers six times during her three years as a Hoosier.
Gardner has a 1-5 career record against Minnesota and Rubio said she is looking forward to the opportunity to play a former Big Ten school in the postseason that had her number while she was a Hoosier.
"I think she is excited to play a Big Ten team," Rubio said. "I'm sure Minnesota has given Indiana problems in the past.
"It isn't Indiana, but playing against a Big Ten team is just as good for her."