Wade named football team MVP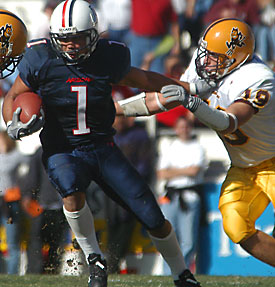 KEVIN B. KLAUS/Arizona Daily Wildcat

At an awards banquet Sunday night, UA wide receiver Bobby Wade was named the team's Most Valuable Player. He was also honored as one of the team's senior captains.

By Staff & Wire Reports
Arizona Daily Wildcat
Tuesday December 10, 2002


At the football team's annual awards banquet Sunday night, Arizona senior receiver Bobby Wade, the school's all-time career receptions leader with 230 catches, was named the team's Most Valuable Player.

Wade set the UA single-season mark this year with 93 receptions, breaking the mark of 88 set by Dennis Northcutt in 1999. Wade finished with 1,389 yards this year and is the UA career record holder in that category with 3,351 yards in his four-year career.

Lance Briggs earned the team's Most Valuable Defensive Player award and Ray Wells was named the Most Valuable Special Teams Player for the Wildcats.

Briggs finished with more than 300 career tackles in just three years of playing defense, after a true freshman year as a fullback. Wells was the team leader in special teams tackles and also led the club with three interceptions.

Senior quarterback Jason Johnson, the UA record holder for single-season attempts (410), completions (239) and yardage (3,327) was named the Most Valuable Offensive Player. He also set single-game marks for yards, completions and per-game yardage.

All four of the MVP honors, plus the UA's captain's awards, are citations picked by the players. Senior offensive lineman Makoa Freitas and senior free safety Jarvie Worcester joined Briggs, Wade and Johnson as team-elected captains in 2002. Each was a four-year letterman.

Freitas won the team's Martin Gentry Lineman of the Year award for offense, while junior defensive end Joe Siofele earned the Martin Gentry award on the defensive side.

Coach's recognition awards for outstanding performance and team leadership by seniors were given to defensive tackle Young Thompson, cornerback David Hinton, offensive lineman Aaron Higginbotham and linebacker Scott McKee.

Worcester earned the Golden "A" award for exemplary leadership, citizenship and overall effort in team contributions.

Senior tight end James Hugo was honored with the Jim Ewing Memorial Award for superior character and scholastic performance, while sophomore special teams player and safety Justin Jochum won the undergraduate academics award for the best grade point average and classroom excellence.

The Defensive Newcomer of the Year award went to freshman linebacker Spencer Larsen, while guard/center Kili Lefotu won the Offensive Newcomer of the Year honor.

Champion Player of the Year awards for outstanding performances on scout teams went to freshman linebacker John McKinney (defense), sophomore quarterback/receiver Zachary Sparksman (special teams) and guard/tackle Keith Jackson (offense).

Johnson and Wade earned career achievement plaques for their record-setting performances in 2002.