Game Notes: Texas loss prevents Top-2 matchup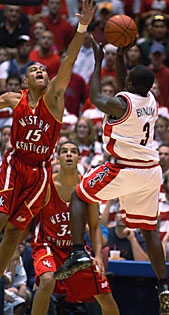 KEVIN B. KLAUS/Arizona Daily Wildcat

It has been sophomore guard Will Bynum's jumpshot that has been making all the headlines so far this season, not his ability to take the ball to the hoop. Bynum leads the team with 13 3-pointers this year.

By Maxx Wolfson
Arizona Daily Wildcat
Tuesday December 10, 2002


With the men's basketball team's next game not until Sunday at 2:30 p.m., head coach Lute Olson will give the team an off day today.

It will allow players to get prepared for finals and just get a day away from basketball before No. 8 Texas comes into town on Sunday.

Since Texas (5-1) lost to Notre Dame in the final of the BB&T Classic on Sunday, it now means that Arizona (4-0) still has never been a part of a game that features the No. 1 and No. 2 teams in the nation.

The Wildcats held up their end of the deal, as they remained The Associated Press No. 1 team, receiving all but one of the first-place votes. Pittsburgh (5-0) at No. 4 received the other vote. Alabama (6-0), Duke (5-0), Pittsburgh and Oregon (5-0) round out the top 5.

Willy B for Three

Sophomore Will Bynum has been the Wildcats' most surprising player so far this season. Bynum has always been considered a slasher who can take the ball to the hoop, but so far he has been hitting his 3-point shot.

Despite being the team's most consistent outside shooter, Olson said he wants to keep the Chicago native out of the starting lineup.

"Will (Bynum) gives us a real spark off the bench, that's why we didn't go with him in the starting lineup," Olson said. "We're still playing with that, as far as what our best lineup will be."

Bynum is the team's third leading scorer at 13.5 points per game, and has hit 44.8 percent of his 3-pointers and leads the team in total threes made with 13. He set career-high totals of 19 points and seven rebounds against SDSU on Saturday.

"The defense focuses on Luke (Walton) and Jason (Gardner) and I get wide open shots," Bynum said. "I'm really confident right now and I have been working hard on my shot."

Katz questions

So far the media coverage this season about the Wildcats has been nearly all positive, until yesterday, when ESPN college basketball analyst Andy Katz questioned the team's ability to put teams away in his Weekly Watch.

But it isn't just Katz who is concerned about UA's ability to finish games. It's also Olson's, as that was the subject he focused on the most after Saturday's game.

"We had the game in a situation where I thought we could blow it open, but we made terrible decisions on four consecutive plays down court," Olson said.

"We turned the ball over and tried to get too fancy instead of making the play."

Katz wrote that putting a team away creates an image, and said that Olson feels his team has not gained that type of a dominating No. 1 team image just yet.

"Once we get the lead, we got to put the team away," Gardner said.