On The Spot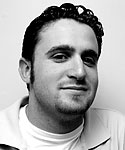 Maxx Wolfson
Journalism Senior

By Rebekah Kleinman
Arizona Daily Wildcat
Wednesday January 15, 2003


Our friendly neighborhood sports guy speaks on life at the sports desk, grabbing butts and having a basketball head

WILDCAT: So Maxx, how do you feel about descending from on high back into the wonderful world of a measly reporter?

WOLFSON: It will be nice. Now I can actually write stories instead of just sitting at a desk.

WILDCAT: You're a sports guy. What is with male athletes grabbing each other's butts? Where did that all start?

WOLFSON: I don't know. I've never thought about it.

WILDCAT: It's something to ponder.

WOLFSON: I guess it started with coaches and just over the years it caught on.

WILDCAT: Do you partake in the grabbage of butts?

WOLFSON: It depends on if it is worthy of it.

WILDCAT: I see. Speaking of grabbing butts ... are you excited about school to start?

WOLFSON: I'm excited about basketball season. Going on roadtrips with the team.

WILDCAT: That's so fun. Do you feel so cool walking around with them?

WOLFSON: It's fun. I mean, big guys on campus you know.

WILDCAT: You know what I would do? I would totally be walking around like I was part of the team, signing autographs, you know.

WOLFSON: Yeah, well most people know who all the basketball players are.

WILDCAT: You could pretend. So, if your head had to be made out of any athletic ball, what would it be?

WOLFSON: Hmm ...

WILDCAT: I have a very large head, so it would have to be a basketball.

WOLFSON: Maybe a volleyball because it's soft.

WILDCAT: So it won't hurt if you hit your head?

WOLFSON: It won't hurt, you know, if someone hits me across the head, might absorb some of the pain.

WILDCAT: Absolutely. And you can get them in different colors, so you could be very stylish. It's like dying your hair. Lots of fun.