Merger possibilities will be announced today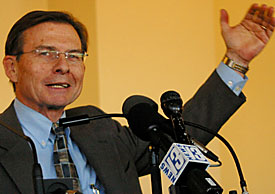 DAVID HARDEN/Arizona Daily Wildcat

UA President Pete Likins will list merger proposals today as part of department reorganization under the Focused Excellence plan.

By Jeff Sklar
Arizona Daily Wildcat
Wednesday January 22, 2003


Top administrators will announce today their initial plans for merging and reorganizing UA programs, the second in a series of announcements outlining their proposals for restructuring the UA's mission.

Today's announcement by President Pete Likins and Provost George Davis will mark the second time in just over a week that they give specific plans for altering the university's goals under Likins' Focused Excellence plan, which seeks to make UA a research powerhouse.

The proposals will include preliminary plans for merging some programs, and ideas for reorganizing others so they function more smoothly or efficiently, Davis said.

He would not discuss specifics of the plan yesterday, but said the proposed changes would impact a broad range of departments.

Department heads across the university expect the merger proposals to meet with some dissent from faculty, many of whom have worked in the same department with many of the same colleagues for decades.

Davis also expects some opposition, and said he and Likins backed away from some merger proposals, fearing political fallout or other "collateral damage" could offset the benefits of the merger.

"The challenging part of · program mergers includes the uncertainties that are always surrounding what happens when two or more units are brought together," he said. "Whether it works or not depends so much on the people, the culture of the departments, the synergies and the politics."

The reorganization proposals will deal with the structure of some operations of the university and streamlining some operations to save money.

Proposals could include renaming or moving departments or programs, Davis said.

The programs facing merger or reorganization will come from a list of 134 areas that deans and other top administrators identified as warranting review.

Last week, Likins and Davis announced preliminary plans to eliminate 16 of those departments, and later this month they will release financial strategies for increasing revenue or efficiency.

Once the initial proposals are released, they will undergo an extensive review process that will include input from faculty, staff and students before going back to Likins and Davis later this semester for final approval.

Likins hopes to present final plans to the Arizona Board of Regents in June.

Students and other community members will be able to address concerns over merger and reorganization proposals, as well as other facets of Focused Excellence, at two Town Halls on Jan. 28 and Feb. 4.