Sahara renovation angers neighbors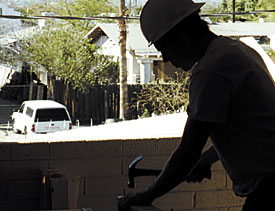 EMILY REID/Arizona Daily Wildcat

Carpenter Joshua Morgan works inside the old Sahara Motel Monday afternoon. The Sahara, located on North Stone Avenue, is slated to become private dorms for UA and Pima students.

By Bob Purvis
Arizona Daily Wildcat
Wednesday Januay 29, 2003


A local developer's plan to turn an old motel into student housing has some members of a historic downtown neighborhood saying, "There goes the neighborhood."

Residents of the Dunbar Springs neighborhood say that turning the Sahara Motor Inn, 919 N. Stone Ave., into the city's first privately-owned undergraduate dormitory will bring crime, noise and traffic into their backyards.

"Sahara would be a huge problem and an incredible negative for our neighborhood," said Barbara Bixby, president of the Dunbar Springs Neighborhood Association.

Bixby cited the opening of Entrada Real, a student apartment complex built just south of Sahara on Stone Avenue, as an example of such problems.

"After they opened, we had students throwing up in our front yards and beer cans everywhere," she said.

"There is a legitimate fear in the neighborhood," said Paul Buckwalter, another Dunbar Springs resident. "(The developer) has not written any rules or regulations yet, and that makes the neighborhood very nervous."

Buckwalter added that he doesn't have anything against students, in general, but he still doesn't want Sahara to become a student housing complex.

He is concerned that the complex's open corridors and central courtyard will create unwanted noise and lend itself to a loud party atmosphere.

"That place is more like a prison than an apartment complex. It will create a real noise problem. It just doesn't make sense to put that kind of facility in our neighborhood," Buckwalter said.

Sahara's owner and developer Ted Mehr said, however, that he has addressed the neighbors' concerns and promised to strictly enforce rules and build a 4-foot concrete wall around the hotel parking lot to minimize noise and light pollution.

Mehr said that 275 of Sahara's 322 double-occupancy rooms have already been reserved and that the neighborhood's quest to keep students out is futile.

"They are totally unreasonable. I have met all the city codes and they still are going to newspapers and TV stations trying to get me shut down. I am sick of hearing about this," Mehr said.

Bixby insisted that the neighborhood's concerns are not based on any sort of personal vendetta.

"Nobody is against Mehr in particular; we are just against student housing going in there," Bixby said.

Neighbors have endorsed a plan by COPE Behavioral Services to offer low-income housing to the elderly at Sahara in place of student housing.

Pat Benchik, COPE's executive director, told the Arizona Daily Star earlier this month that the organization had offered Mehr $2.6 million but were unable to reach an agreement.

"I have building permits. The building is halfway done. Do they just expect me to abandon the project?" Mehr said.

Some UA students feel that the neighborhood's concerns are unrealistic.

"Of course there would be a problem with noise, but there's definitely a bias there," said Katie Yackel, an agriculture student.

"Yeah, kids are going to be loud, but there are kids in every apartment in town, and you don't hear the whole city of Tucson crying about it," said Sean Moore, a computer science senior.

The Sahara student-housing complex is scheduled to open Aug. 1.