Basketball holding on to third in conference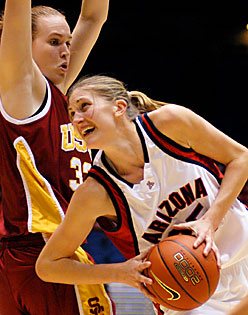 CHRIS CODUTO/Arizona Daily Wildcat

Senior forward Krista Warren and the Wildcats currently have one win and one loss amidst a critical four-game road trip.

By Charles Renning
Arizona Daily Wildcat
Wednesday Januay 29, 2003


Every coach talks about the grind of a road trip, and none was more grueling than the Arizona women's basketball game in Wisconsin.

After playing Arizona State last Thursday, the Wildcats stayed in Tempe, then left from Phoenix the next morning for Madison.

The Wildcats escaped with a 62-55 win over the Badgers, but struggled in Madison.

Junior Aimee Grzyb missed the game because of illness and freshman center Shawntinice Polk missed the start of the second half because she felt sick.

Arizona outscored Wisconsin 9-2 to end the game and held on for a win in their final non-conference game of the year.

Head coach Joan Bonvicini said that she expects everyone to be healthy for the team's trip to Oregon this week and said that players are a little worn out from all the traveling.

"They have just been tired because we have traveled a lot," said Bonvicini.
---
Even though the Wildcats lost to Arizona State last week, they still remained in third place and only trailed Pacific-10 Conference leader Stanford by two games.
The Cardinal lost its first conference game of the year to USC 75-72.
"(The Stanford loss) opens the door for us," said Bonvicini. "But we control our own destiny."
The Wildcats finished the first half of the Pac-10 schedule at 6-3, but Bonvicini said the team could have done even better.
"We should have won one or two more games," said Bonvicini. "We had a chance to win two of (the games) that we lost."
Arizona plays both teams that are ahead of them in the standing (Stanford and Washington) at home in the final month of the season, which will be key to earning one of the two top spots for the Pac-10 Tournament.
"Our goal is to finish in the top two," said Bonvicini. "We've just got to go a game at a time and win our road games."
The first and second place teams during the regular season get a first round bye in the conference tournament.