Q & A: Interview with Kodo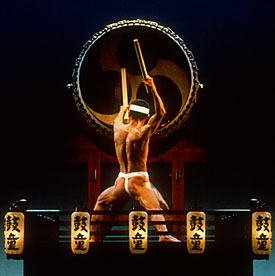 Photo Courtesy of UApresents

Kodo, a Japanese percussion ensemble, features the towering daiko among other drums. Their Tucson show will be at Centennial Hall this Saturday.

By Lindsay Walker
Arizona Daily Wildcat
Thursday February 13, 2003


Slowly, slowly, steady, steady. One drum ÷ the drum, called the o-daiko, that towers over many heads ÷ sounds, and suddenly other tiny drums chime in, all together for one purpose: to give the world a heartbeat.

This is the mission of Kodo, a Japanese performing company whose concerts depend on the music of the taiko, or Japanese drum, and their dynamic 20 or so performers. Kodo was founded in 1971 by Tagayasu Den, who wanted to attract more people to Sado Island (a sliver of land off the coast of Japan), where there was not much for youth to do. In 1981, the group broke free from Den and named itself "Kodo," which means "heartbeat" in Japanese and is a symbol that unites all peoples.

Kodo has performed on five continents and remains one of the most successful Japanese performing companies in the world. Every year since 1987, Kodo has hosted the Earth Celebration on Sado Island, which attracts a large audience and has been called "Japan's leading world music event" by the New York Times. Kodo will be bringing their souls and their drums to Centennial Hall on Saturday at 8 p.m.

The company's manager of 18 years, Takashi Akamine, answered a few questions about the history of Kodo and his personal experience with the company.

Wildcat: Are there any original members of Kodo left?

Akamine: Yes, yes. There are eight original members, and one is still performing. And he is the one who plays the big drum (o-daiko). His name is Yoshikazu Fugimoto.

Wildcat: Why did you want to become a part of Kodo's work?

Akamine: I was a student in London when I first heard of Kodo. I was completing my education and was planning on returning to Japan, and I had my first job interview with the company director, and I thought maybe with my experience from living in England and what skill I have, I might be able to offer something to the company. And he offered me a job.

Wildcat: What is it about Kodo that so attracted you or struck you as important?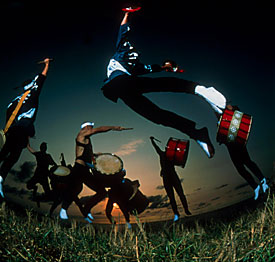 Photo Courtesy of UApresents
Akamine: The concert itself was so impressive, and I took some of my friends, and they were equally impressed with the performance. Music has a way to really reach people's hearts, and especially drums. How can I say this? I think the drum has some kind of magical power to embrace people. The sound of the drum, you can actually feel it. I think Kodo is the first performing company using drums as an ensemble and presenting an art form. If you come and experience the concert, I think that you will really understand this. When I say that the drums have a magical power · okay, I'll tell you a story. We say that the sound of the drum, especially the big drum, resembles a mother's heartbeat when it is heard inside a mother's womb. I actually witness when little children come to see the concert ÷ during it they fall asleep. Probably something in the back of their minds subconsciously speaks to them; the sound of the drum is so comforting and it also embraces you, and a little child finds that they are very comfortable when the big drum is played.
Wildcat: How do adults react to the concerts?
Akamine: Well, it's a quite loud concert, but here's another story. A British comedian, Michael Palin, came to our island. He wanted to try the big drum and he played. I told him to play harder and make a big sound. He said to me, "Well, us British are taught not to make a big noise." It is not accepted behavior, but people still enjoy making a big sound. But when you go to a concert, Kodo does it for you ÷ and that seems to release people's stress. Some people, after a concert, come up to me and say that they have drummed up so much energy just watching Kodo in concert. It is so great to see people after the concert feeling good.
Wildcat: I know before someone is allowed to join Kodo, they must be an apprentice at the Kodo Cultural Foundation's Apprentice Center. What do you think is the most valuable lesson learned at the apprentice center?
Akamine: It's a two-year program and anyone can join. There is only one condition: that you have to be over 18. The program consists of many things. It is not only drumming, but you learn other things like traditional ceremonies. And also you walk the field, pick rice and go out with neighbor fishermen and go fishing in the sea. Many of the apprentices, when they apply, come from big cities, and so they've never really done any fieldwork. So I hope that kind of experience will enlighten something in their mind.
Wildcat: How hard do they work at the apprentice center? Is it like a full-time job?
Akamine: It is a quite intense and rigid schedule. They have to get up early in the morning at 4:50 every day and do a 10-km. run (that's about 6 miles). They also have to do daily household chores. There are not many exciting things on the island, and so they stay almost all day at the apprentice center and practice. They finish practice at about 6 o'clock, then we have our dinner and after that is free time. But most of the younger apprentices practice until 10 o'clock. They have to be really determined to become a Kodo performer.
Wildcat: How many people are then chosen to become junior members (of Kodo)?
Akamine: Well, every year we have about 30 to 40 people apply, and we accept a maximum of 12. After a two-year course, they have a final audition. It's hard to say how many people we accept every year. This year we accepted none, because not a single person succeeded or we weren't able to accept (them). The year before we accepted two.
Wildcat: Has any one performance of Kodo's stuck out as the mos important?
Akamine: It is tough to say because we have been touring for so many years. But two years ago, we were invited by the Nobel Peace Corps to perform for the Nobel Peace Concert, celebrating their 100th anniversary. That was really wonderful to perform with other well-known performers like Paul McCartney.
Wildcat: Out of the five continents on which Kodo has performed, which was the most welcoming?
Akamine: (laughs) I guess the countries all have their own responses to Kodo, but they're all welcoming. Recently, we visited Korea and China, and we haven't had many opportunities to visit those Asian countries. It was quite a bit of an experience for us; you know that we have had a distant relationship with Korea in the past, but slowly the Koreans have been opening doors for us, especially Japanese performing companies. And we are very pleased. Each country of course has their own way of expressing their appreciation. North America, of course, is so direct and so open, and Europe too.
Wildcat: Why has Kodo not yet performed in Africa?
Akamine: We haven't had a chance to send the whole company to Africa, but a small group we sent in 1993. But the whole company has not been able to go to Africa, mostly for financial reasons.
Wildcat: What is your favorite part of the Earth Celebration?
Akamine: Kodo's company usually performs at indoor venues, but Earth Celebration is outdoor. What can I say? Under the beautiful sky · (laughs) well, sometimes it gets windy and rainy · but I think that they (the members of Kodo) really enjoy that outdoor venue.
Wildcat: Do you think that the Earth Celebration is held just for fun or is there some deeper purpose behind it?
Akamine: Well, for Earth Celebration, we invite other artists from the four corners of the world. This year, we will be inviting artists from Africa. It's a challenging work for this corporation, and we can show a side of Kodo which you normally don't see in those venues, like in a collaboration. That's the fun part.
Wildcat: Kodo's performance has been described as a "total brain massage" (by The Independent on Sunday). What do you interpret this to mean?
Akamine: I guess if you've never seen it, it can be massaging. · Ummm, to see it (Kodo's performance) on the stage is rather striking, and also the sound and volume of it. You feel the sound through the floor, through your chair; it's something you've never experienced before, and that's what appeals to many of the audiences.
Wildcat: What should people in Tucson expect from Kodo's performance? Is there any new material being presented?
Akamine: We will perform three new pieces that we haven't performed here in America, and I really can't remember the last time we were in Tucson, but there will be quite a few new pieces they will see. There will also be a dance piece done by two performers, and that's something probably new to the U.S. audience.
Something to say? Discuss this on WildChat