Forum
Attending events other than basketball won't solve problem
I am writing this letter in response to the many letters I have read in the Forum regarding "alternatives" to attending a UA basketball game. More specifically, this is to Patrick Mallee, who wrote in a letter that the answer to the lack of student seating in McKale is Wildcat baseball. I believe Mr. Mallee is comparing apples to oranges, among other things. [Read article]




Delta Tau Delta cuisine scores zero stars
Maybe Emeril should take a college tour
Last week, the UA found out that the Delta Tau Delta fraternity pledges were required to do some cleaning, pushups and eat ravioli topped with syrup and butter in early January.
Odd, don't you think? Even the worst cooks know marinara sauce is the only proper topping for this tasty pasta treat. Maybe a light pesto would work, or even ketchup when one is in a financial pinch, but never syrup. [Read article]




Issue of the Week: Should global leaders listen to protesters?
Over the weekend, anti-war protests overtook cities across the world, demonstrating opposition to a future war on Iraq. Although this is not the first time people have taken to the streets in an effort to halt the war, it was this weekend that prompted a response from President Bush. Yesterday, Bush noted "democracy is a beautiful thing, and people are allowed to express their opinions," but letting protesters influence war decisions would be "like saying I'm going to decide policy based upon a focus group." Should President Bush be listening a little more carefully? [Read article]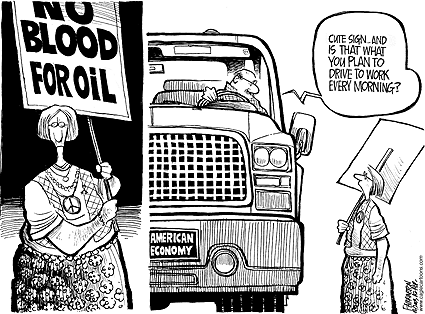 showads('mediumbutton'); ?>

showads('bigbutton'); ?>