Delta Tau Delta cuisine scores zero stars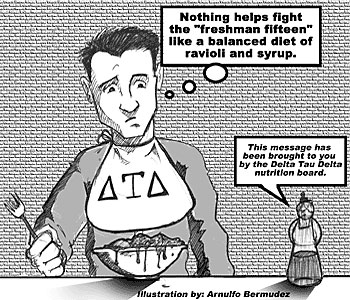 Illustration by Arnulfo Bermudez

By Widlcat Opinions Board
Arizona Daily Wildcat
Wednesday February 19, 2003


Maybe Emeril should take a college tour

Last week, the UA found out that the Delta Tau Delta fraternity pledges were required to do some cleaning, pushups and eat ravioli topped with syrup and butter in early January.

Odd, don't you think? Even the worst cooks know marinara sauce is the only proper topping for this tasty pasta treat. Maybe a light pesto would work, or even ketchup when one is in a financial pinch, but never syrup.

Even the worst cooks know marinara sauce is the only proper topping for a tasty pasta treat like ravioli.

Violations of this sort may have been acceptable 10 or even 20 years ago, but in this new era of Greek community leadership, fraternities should know that mixing breakfast and lunch is simply unacceptable (except on the way back up, in which case, party on brothers!).
How would Aunt Jemima feel if she knew that her tantalizingly sticky morning topping was being drizzled over pasta?
Obviously fraternities have been forced to become more creative, but kitchen cupboard, smorgasbord hazing has no place at UA, especially when such poor gourmet skills are applied.
Student taste bud violations of this scale are disgusting, culinary disasters.
Delta Tau Delta should rethink its approach. Don't they want well-rounded, food-conscious individuals who take pride in their understanding of matching cuisines?
Maybe a new house cook is in order.
But luckily the incident was reported, and our Dean of Students office is taking valuable time to aggressively investigating the matter. Let's just hope the next time Chef Boyardee and Mrs. Buttersworth get it on, things stay strictly platonic.
Something to say? Discuss this on WildChat